Cricket is a passion and war.
Cricket is the most loved sport globally, and we all love to watch cricket and do not want to miss a single moment of a live match when our favorite team is on the field. But it is not possible to sit in front of the Television to catch all the live updates. Therefore we make up a list of the top 10 live cricket streaming apps to keep you updated about Ball by Ball Commentary, Highlights, and expert analysis.
When cricketing nations tour other countries, it is hard for a cricket fan to watch the progress of his ideal team due to the difference in the time zone. So our list of best live TV apps will help you to cover the crucial matches.
These live cricket TV apps will come with different features, and whether you are an Android or iPhone user, you can install these apps on your gadget to enjoy live matches along with highlights and analysis. These apps are free to download, yet you can purchase a subscription to enjoy an ad-free experience.
Best Live Cricket Streaming Apps for Android and iPhone
Check out our list of the top apps in 2021 to watch live cricket online, such as the ICC T20 World Cup, Indian Premier League, Pakistan Super League, Big Bash League, and other cricketing events as well.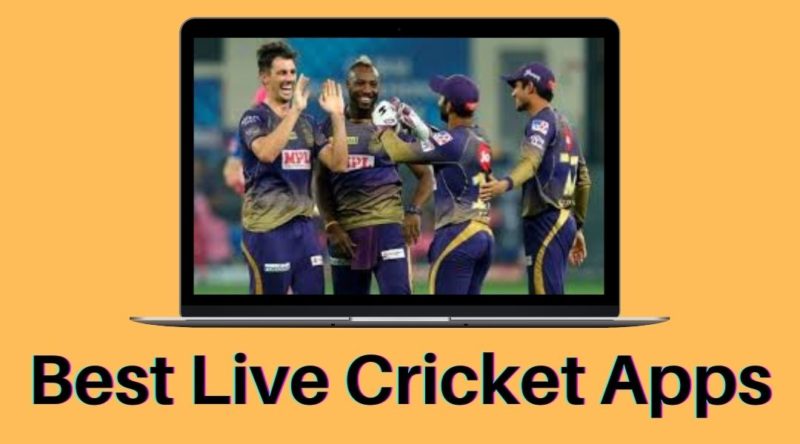 10# Live Cricket TV HD – FREE
Developed by Sports Stream, this streaming app is ready to entertain you no matter where you are. All you need is a smartphone and an internet package to watch your favorite match. This app covers all the prominent cricket leagues like IPL, PSL, BBL, and ICC World Cup.
Live Cricket TV Channels and Apps for Android, iPhone, iPad, Smart TV
Live Cricket TV HD is a free app to enjoy TV like live experience. Just install the app, open it, and all live cricket action is on your fingertips without costing you a penny.
Pros:
It Provides HD quality live streaming for free.
You do not need to cope with buffering problems.
It provides the live streaming of all big cricket leagues in the world.
Fast and easy access to cricket and other sports as well.
Cons:
Sometimes the app does not work on mobile data. You will have to switch to WI-FI to run the app.
You will often face lagging during the live video.
You cannot connect the app to the TV to watch live cricket on the big screen.
9# Cricket Australia Live
This is the official application of Cricket Australia with more than one million downloads. Cricket Australia Live is available for Android and Apple on Google Play Store and Apple Store. All international and domestic matches in Australia are available on this app.
To run the Cricket Australia Live App on your Smartphone, you need a subscription to the Kayo streaming service provided by Fox Sports. It also has a live radio feature, including live cricket matches, highlights, live updates, commentary, and analytics.
Pros:
Live Radio
It provides highlights of heated moments, wickets, and sixes.
All latest cricket updates are available.
Live Streaming of all domestic and international matches played in Australia.
It gives exclusive cricket news from across the world.
It does not run ads.
Cons:
Live Radio does not turn off sometimes, even if you close the app completely.
This app does not have a dark theme.
The app sometimes crashes or takes a long time to load.
Sometimes people face login issues.
You can't connect the app with a TV to watch it on the big screen.
8# SonyLIV
If you are looking for the best live sports app in India, SonyLIV might be your one-stop solution. SonyLIV is a famous pay-to-play entertainment platform that provides Sports, movies, Web Series, TV Shows, Live Cricket Streaming, and news updates.
If you want endless entertainment, you can download the SonyLIV app for Android and iPhone on Google Store or Apple Store and get entry to the world of amusement.
ALSO SEE: How to Watch SonyLiv FREE T20 World Cup
5 Best VPN to Watch SonyLiv in USA Discount Offers
Pros:
SonyLIV is a good source of Live Cricket matches and other sports like Soccer, the NBA, and Martial Arts.
SonyLIV also streams Mixed Martial Arts Events.
You can watch your favorite movies and TV Shows anytime, anywhere.
The interface of the SonyLIV app is straightforward. Even kids and older people can operate it efficiently.
Cons:
Users face buffering during live matches sometimes.
Sometimes Premium content does not play even after paying the subscription fee.
There are no brightness controls in the video player.
Too many ads pop up for free users.
7# JioTV
JioTV, one of India's most famous live-streaming apps, provides instant access to TV programs, 650+ TV channels, cricket live matches, highlights, and the latest sports updates. The JioTV subscribers not only enjoy live cricket, but multiple entertainment options are also available for them. JioTV app offers a unique feature of Pause and Play for live TV channels so that people cannot miss a single moment of their favorite show or match.
Also Read: How to Watch IPL on JioTV
Where to Watch IPL Without JIOTV and HotStar
JioTV also provides crystal clear HD video quality in your preferred language, including English, Hindi, Kannada, Tamil, Telugu, Marathi, Bengali, Gujarati, Bhojpuri, Punjabi, Malayalam, Assamese, Odia, and Urdu.
All this content is absolutely FREE.
Pros:
You do not miss a program with the seven days catch-up feature.
Pause and Play function Live TV Channels is a plus point.
You can mark your favorite TV channels or shows.
All sports highlights are available with one tap.
You can record your favorite programs and watch them later.
Cons:
JioTV app is not available for android TV or other devices like a laptop.
There is no Skip feature available for ads.
Sometimes, live channels do not load properly, even on a good internet connection.
The app takes a long time to load every so often.
6# Tata Sky Mobile
Tata Sky Mobile is a great app to stream live TV channels, TV shows, movies, sports, and much more anywhere. By installing the Tata Sky Mobile app, you can carry a smart TV in your pocket and catch up on your favorite sport or TV show everywhere.
This app placed 6th on our list as it provides more than 600 TV channels along with Hollywood and Bollywood On-Demand movies.
Pros:
Tata Sky Subscribers can live stream TV Channels across their preferred genres like Sports, News, or Entertainment in different languages.
A wide variety of movies, shows, and web videos are available to download.
You can watch your favorite show with the Last 7 Days TV feature.
Download your desired content and watch it later in offline mode.
Recharging Tata Sky is simple and easy.
Cons:
Tata Sky Users face signal loss issues in case of rainy weather.
It has a complex User Interface.
The complaint system is slow, like a turtle.
5# Willow TV
In the form of Willow TV, you can bring all the cricketing action on your smartphones. Willow TV is the best cricket app available for Android and iPhone. Cricket enthusiasts can enjoy live cricket matches, including interactive scorecards and ball by ball commentary.
How to Watch IPL on Willow TV
Stream PSL on Willow TV Channels
You can set reminders for your favorite cricket matches and share cricket action with your friends and foes with the social media sharing feature. However, to enjoy all the cricketing experience, you need to buy a monthly Willow TV subscription.
Pros:
You can live stream a match on Chromecast.
Replays and highlights of crucial moments are available.
You can hide scores and results.
A social media sharing feature is available.
Cons:
Live Cricket Streaming is available only for paid users, which is available for $9.99/month.
Free Trial is not available on Willow TV.
Ads are very annoying in free mode.
The subscription cancellation system is not available on the website or app. Instead, you have to email the support team to cancel your subscription.
4# SuperSport
SuperSport provides cricketing action to South African cricket fans. In addition, superSport focuses on all sports events globally like football, cricket, rugby, golf, tennis, and motorsport. Furthermore, it offers live cricket streaming of all international events, including live scores, commentary, highlights, schedules, and more than meets the eye.
You can track all the progress of your team during a live match. Also, you can set a reminder not to miss a single update.
To watch live cricket matches on SuperSport, you need a DStv Premium, Compact, or Compact Plus Subscription. Then, use their Connect IDs to enjoy your SuperSport action.
Pros:
A reminder option is available so that you won't miss any sports action.
You can set notifications and Real-Time Updates to get ball-by-ball alerts.
You can customize the whole app according to your need.
Cons
Video buffers sometimes.
The user interface is not so friendly.
The app Doesn't update scores in time and lags way too often.
3# OSN Play
OSN Play is the best streaming app for the Middle East and North African residents, providing them with the best cricket action. By installing OSN Play, you can watch your favorite match live anytime, anywhere.
OSN Play offers live streaming of all international cricket events like ICC World Cup, IPL, PSL, LPL on OSN Sports 1 and OSN Sports. If you are not satisfied with a cricket match, you can always choose your desired title from OSN's sports, movies, and shows.
To use OSN services, you need to subscribe. After getting a subscription, you can use the OSN Play app on two devices simultaneously.
Pros:
A seven-day free trial is available so you can check the app before buying a subscription.
Cricket streaming is smooth.
The user interface is easy to understand.
Ad-free experience for subscribers.
Cons:
You need to sign in every time you open the app.
The customer service is not satisfactory.
The app doesn't support 4k streaming quality.
2# ESPN
The ESPN app is the best source of live cricket in South and Central America. ESPN is the best sports brand offering thousands of live events plus get scores, highlights, scorecards, and analysis.
ESPN app gives you access to numerous channels like ESPN, SEC Network, ESPN2, ESPN3, ESPNU, SEC Network Plus, ESPNews ESPN Deportes, and Longhorn Network. Also, you will get exclusive originals, premium sports articles, fantasy tools, and much more.
You can choose your favorite team and get the latest updates about them on your app's homepage. ESPN is also famous for streaming the Fifa World Cup.
Pros
You can get all the information about your favorite team.
The app provides fast access to all sports updates.
Real-Time notifications are available for desired teams.
Cons
In the free version of the app, you will face a lot of ads.
Sometimes notifications do not open and take a long time to load.
Video often freezes during live matches.
1# Disney+HotStar
Disney+HotStar is the most downloaded app in India and provides all types of content, including movies, TV shows, Live TV Channels, Sports, IPL Live Streaming, and much more. It is the best Cricket Streaming app with more than 350 million downloads.
Disney+HotStar provides the best services regarding cricket and offers live scores, interactive scorecards, fixtures, and points tables. In addition, the Social Feed feature allows users to share the cricket action directly with friends to discuss.
How to Watch Hotstar Outside India
Also, Disney is the official live stream partner of the Indian Premier League, offering exclusive interviews and analysis for your IPL team.
Pros
Disney+HotStar covers all major sports events like IPL, EPL, Formula 1, and Tennis.
You can watch many movies and Disney+HotStar Originals.
It provides all the latest news.
Watch on your TV using Chromecast.
An ad-free experience with no interruptions.
Cons
Sometimes, you face endless buffering of the video.
The app faces difficulties when used on Mobile Data.
Some users face common audio issues during movie play.
Download Links
| Name | Free vs Paid | Download Link |
| --- | --- | --- |
| Live Cricket TV HD | Free | https://play.google.com/store/apps/details?id=com.sports.live.cricket.tv&hl=en&gl=US |
| Cricket Australia Live | Paid | https://play.google.com/store/apps/details?id=au.com.cricket&hl=en&gl=US |
| SonyLIV | Paid | https://play.google.com/store/apps/details?id=com.sonyliv&hl=en&gl=US |
| Oreo TV | Free | # |
| ThopTV | Free | # |
| JioTV | Paid | https://play.google.com/store/apps/details?id=com.jio.jioplay.tv&hl=en&gl=US |
| Tata Sky Mobile | Paid+Free | https://play.google.com/store/apps/details?id=com.ryzmedia.tatasky&hl=en&gl=US |
| Willow TV | Paid | https://play.google.com/store/apps/details?id=tv.willow&hl=en&gl=US |
| SuperSport | Paid | https://play.google.com/store/apps/details?id=com.supersport.android.phone&hl=en&gl=US |
| OSN Play | Paid | https://play.google.com/store/apps/details?id=com.osn.go&hl=en&gl=US |
| ESPN | Free+Paid | https://play.google.com/store/apps/details?id=com.espn.score_center&hl=en&gl=US |
| HotStar | Paid | https://play.google.com/store/apps/details?id=in.startv.hotstar&hl=en&gl=US |
The ICC T20 Cricket World Cup and the remaining Indian Premier League 2021 (IPL) is coming in a few months, and cricket fever is at its peak nowadays. Wherever you live in the world, these free cricket streaming apps will help you watch your favorite matches and keep you updated about all the latest news and updates regarding all cricketing events.