Many people love cricket all over the world. We all like to watch live matches, especially when our favorite team is playing. But sometimes, we can't watch on TV. So, we made a list of the best apps to watch live cricket. With these apps, you can watch HD streams, chat live with other fans, see live scores, play fantasy games, and even watch together with friends.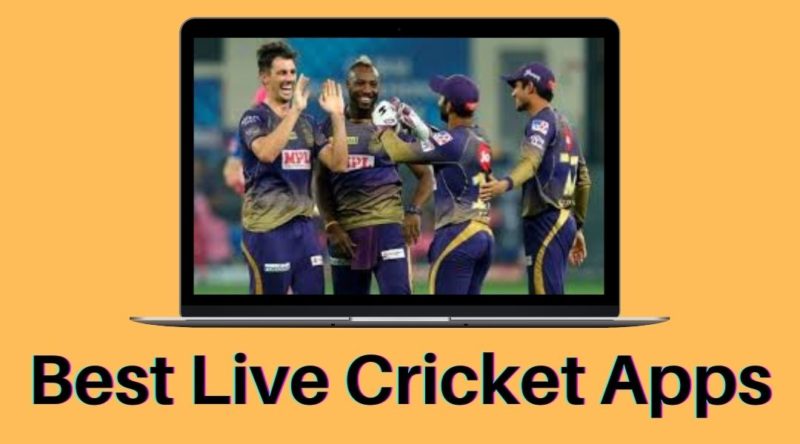 Best Live Cricket Apps for Android and iOS and Smart TV
These cricket apps let you watch matches on your phone, whether it's Android or iPhone. Each app has special features like HD streams, live chat, and more. You can download these apps for free. But if you don't want ads, you can buy a subscription. If you have a laptop, you can also watch cricket on websites.
1- Willow TV
Willow TV offers live cricket matches on the go, along with unlimited access to exclusive highlights and replays. Stay updated with interactive scorecards and real-time commentary while enjoying compatibility with a range of devices, including Apple TV, Roku, Samsung Smart TV, Amazon Fire TV, Xbox One, Android TV, and Chromecast. Set reminders for your favorite matches, share cricket moments with friends, and enjoy an ad-free experience with a subscription.
2- YuppTV
YuppTV is a popular online streaming service that offers a wide variety of live cricket leagues and Indian TV channels in over 20 languages. Ideal for those residing outside India, this platform allows users to catch up on their favorite shows, enjoy over 4,000 channels, and access a vast movie library. With features like 24/7 customer support and compatibility across multiple devices, YuppTV has garnered over 13 million mobile downloads, making it a top choice for Indian content and live cricket streaming globally. They offer a free trial in some regions. Learn more about packages and plans.
3- ESPN
The ESPN app is the best source of live cricket in South and Central America. ESPN is the best sports brand offering thousands of live events plus scores, highlights, scorecards, and analysis. 
ESPN app gives you access to numerous channels like ESPN, SEC Network, ESPN2, ESPN3, ESPNU, SEC Network Plus, ESPNews ESPN Deportes, and Longhorn Network. Also, you will get exclusive originals, premium sports articles, fantasy tools, and much more.
You can choose your favorite team and get the latest updates about them on your app's homepage. ESPN is also famous for streaming the Fifa World Cup.
4- JioCinema
JioCinema, a prominent digital streaming platform by Reliance, offers an extensive array of live sports streams, particularly cricket. From airing live cricket matches like Indian Premier League, the Major League Cricket 2023, to showcasing cricket show seasons and the Asian Cricket Challenge, JioCinema is a hub for cricket enthusiasts.
Notably, the platform also broadcasts the highly-anticipated show Bigg Boss, with the latest season, #BiggBoss17, offering 24 hours of live streaming. Available on various devices, including Android through the Google Play Store, the platform has a user rating of 4.2 from over a million votes. With its vast entertainment library spanning web series, movies, HBO originals, and more, JioCinema continues to be a favored choice for many, consolidating its position as a go-to destination for both sports and entertainment content.
5- SonyLIV
SonyLIV is a premier choice for live sports enthusiasts in India, boasting a vast array of entertainment from sports, including movies, web series, TV shows, and timely news updates. As a prominent pay-to-play platform, it's a hub for comprehensive entertainment. However, for fans outside of India, access is restricted. Fortunately, by using a VPN for SonyLIV, non-Indian users can seamlessly enjoy the platform's offerings. To immerse in this world of entertainment, simply download the SonyLIV app for Android or iPhone from the Google Store or Apple Store.
6- Disney+HotStar
Disney+HotStar is the most downloaded app in India and provides all types of content, including movies, TV shows, Live TV Channels, Sports, IPL Live Streaming, and much more. It is the best Cricket Streaming app with more than 350 million downloads.
Disney+HotStar provides the best services regarding cricket and offers live scores, interactive scorecards, fixtures, and points tables. In addition, the Social Feed feature allows users to share the cricket action directly with friends to discuss.
Also, Disney is the official livestream partner of the Indian Premier League, offering exclusive interviews and analysis for your IPL team. 
7- FuboTV
FuboTV is a streaming app where you can watch lots of sports and TV shows. You can watch popular sports like NFL, NBA, and soccer from many countries. They show over 350 TV channels, including big ones like ABC, FOX, and ESPN. If you like college football, this app has a lot. They also have many local sports channels. You can watch big events like the NBA Finals, World Cup, and the Olympics. Soccer fans will like it because they can watch English Premier League, LaLiga, and other top leagues.
Fubo Live Cricket has rights to the ESPN channel. Which provides League matches, ICC World Cup, and Cricket Tour streams.
8- Vidgo
Vidgo TV is an app that offers a mix of live shows, movies, and premium channels. It works with many big TV networks, broadcasters, and even pay TV services. This means you can watch sports from apps like ESPN, news from ABC or CNN, and your favorite shows from Hulu or YouTube TV, all in one place.
One cool feature is that Vidgo TV can use your iPhone to adjust your TV's colors, so you get the best picture quality without any fuss. If you're a subscriber to TV services like Charter Spectrum or AT&T TV, you can also watch their live channels and many on-demand shows through Vidgo TV.
Vidgo TV comes with a new Siri Remote, which is quick and easy to use. It's also made for great viewing: with High Frame Rate HDR, videos look much more vivid and smooth. This means sports action seems real, nature shows feel like you're there, and even YouTube videos look better.
9 – Hulu
Hulu is a versatile streaming platform offering a broad array of TV shows, movies, and sports. With subscription plans priced at $12.99/month (rising to $14.99/month from 10/12/2023), users can access Hulu with ads, Disney+, and ESPN+. Hulu offers two primary plans: one with ads for $7.99/month and an ad-free version at $14.99/month (which will go up to $17.99/month by 10/12/2023). Both plans boast a vast streaming library, Hulu Originals, compatibility across multiple devices, and options for up to 6 user profiles with two simultaneous streams. Additionally, the ad-free version allows offline downloads. Among its diverse content, Hulu features a 60-episode cricket season, various shows like "Roll the Tape" and "Family Guy," movies, and sports series. Subscribers can also enhance their experience with add-ons like Max, CINEMAX®, SHOWTIME®, and STARZ® and can navigate various support sections for a seamless streaming experience.
10- Cricket Australia Live
This is the official application of Cricket Australia with more than one million downloads. Cricket Australia Live is available for Android and Apple on Google Play Store and Apple Store. All international and domestic matches in Australia are available on this app.
To run the Cricket Australia Live App on your Smartphone, you need a subscription to the Kayo streaming service provided by Fox Sports. It also has a live radio feature, including live cricket matches, highlights, live updates, commentary, and analytics.
11- SuperSport
SuperSport provides cricketing action to South African cricket fans. In addition, superSport focuses on all sports events globally like football, cricket, rugby, golf, tennis, and motorsport. Furthermore, it offers live cricket streaming of all international events, including live scores, commentary, highlights, schedules, and more than meets the eye.
You can track all the progress of your team during a live match. Also, you can set a reminder not to miss a single update.
To watch live cricket matches on SuperSport, you need a DStv Premium, Compact, or Compact Plus Subscription. Then, use their Connect IDs to enjoy your SuperSport action.
12- OSN Play
OSN Play is the best streaming app for the Middle East and North African residents, providing them with the best cricket action. By installing OSN Play, you can watch your favorite match live anytime, anywhere.
OSN Play offers live streaming of all international cricket events like ICC World Cup, IPL, PSL, LPL on OSN Sports 1 and OSN Sports. If you are not satisfied with a cricket match, you can always choose your desired title from OSN's sports, movies, and shows.
To use OSN services, you need to subscribe. After getting a subscription, you can use the OSN Play app on two devices simultaneously.
13- Tata Sky Mobile
Tata Sky Mobile is a great app to stream live TV channels, TV shows, movies, sports, and much more anywhere. By installing the Tata Sky Mobile app, you can carry a smart TV in your pocket and catch up on your favorite sport or TV show everywhere.
14- Live Cricket TV HD – FREE
Developed by Sports Stream, this streaming app is ready to entertain you no matter where you are. All you need is a smartphone and an internet package to watch your favorite match. This app covers all the prominent cricket leagues like IPL, PSL, BBL, and ICC World Cup.
Live Cricket TV HD is a free app to enjoy a TV-like live experience. Just install the app, open it, and all live cricket action is at your fingertips without costing you a penny.
15- Star Sports
Star Sports app is ideal for cricket fans. It gives live cricket scores and updates. The app has easy-to-use tabs: Fixtures, Home, News, Watch Live, and Settings. Users can see upcoming matches, recent results, and live games. The News tab shares the latest cricket stories. With the Video tab, fans can watch match highlights. The Settings tab shows rankings and stats. Overall, it offers quick cricket scores and essential information. Star Sports Live Cricket TV is available in India and the outer world.
16 – Live Cricket TV Apps
Download Links
| Name | Free vs Paid | Download Link |
| --- | --- | --- |
| Live Cricket TV HD | Free | https://play.google.com/store/apps/details?id=com.sports.live.cricket.tv&hl=en&gl=US |
| Cricket Australia Live | Paid | https://play.google.com/store/apps/details?id=au.com.cricket&hl=en&gl=US |
| SonyLIV | Paid | https://play.google.com/store/apps/details?id=com.sonyliv&hl=en&gl=US |
| Oreo TV | Free | # |
| ThopTV | Free | # |
| JioTV | Paid | https://play.google.com/store/apps/details?id=com.jio.jioplay.tv&hl=en&gl=US |
| Tata Sky Mobile | Paid+Free | https://play.google.com/store/apps/details?id=com.ryzmedia.tatasky&hl=en&gl=US |
| Willow TV | Paid | https://play.google.com/store/apps/details?id=tv.willow&hl=en&gl=US |
| SuperSport | Paid | https://play.google.com/store/apps/details?id=com.supersport.android.phone&hl=en&gl=US |
| OSN Play | Paid | https://play.google.com/store/apps/details?id=com.osn.go&hl=en&gl=US |
| ESPN | Free+Paid | https://play.google.com/store/apps/details?id=com.espn.score_center&hl=en&gl=US |
| HotStar | Paid | https://play.google.com/store/apps/details?id=in.startv.hotstar&hl=en&gl=US |
The ICC T20 Cricket World Cup and the remaining Indian Premier League 2021 (IPL) is coming in a few months, and cricket fever is at its peak nowadays. Wherever you live in the world, these free cricket streaming apps will help you watch your favorite matches and keep you updated about all the latest news and updates regarding all cricketing events.