Are you tired of buffering during BPL live streaming or plenty of ads when you open a cricket streaming app? Here in this article, we will cover Best streaming Apps to Watch BPL League , so you will enjoy your favorite match without any delay. If you aren't sure where to watch Live Online? Stay tuned with us, and we will guide you on how to watch all Live matches online for free.
Check out our Best streaming Apps to Watch Bangladesh Premier League Live for Free on Mobile, LAPTOP.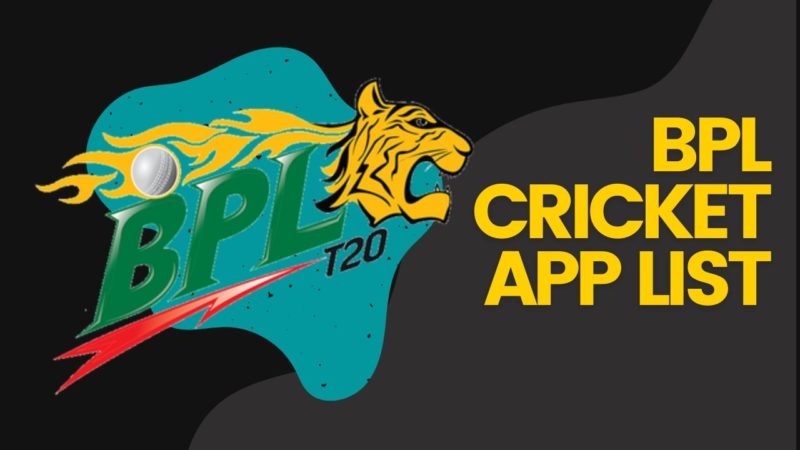 Hotstar
Hotstar is one of India's best apps offering BPL 2023 Live matches. Hotstar is a great source to enjoy live cricket online anytime, anywhere, along with live commentary pre and post-match analysis and regional commentary in six different languages, live scores, and behind-the-scenes fun. 
You can buy a Hotstar VIP subscription by just paying INR 399 to enjoy BPL live cricket matches. You need to pay INR 299/month or 1499/year for a premium subscription. You can enjoy other cricket leagues like IPL, BBL, or CPL on Disney+Hotstar.
Moreover, Disney+Hotstar also offers football and other sports to its subscribers as well. Hence, Disney+Hotstar is the best cricket app in India available for iPhone and Android.
YouTube
You can watch Bangladesh Premier League on YouTube. You just need to subscribe to Rabbitholebd Sports channel and watch your favorite match in HD quality on YouTube.
Rabbitholebd Sports is a great source to watch live cricket online free for the Bangladeshi people living far away from home and cannot go to stadiums. Rabbitholebd Sports channel is the only official channel of Gtv, and it has all the rights to broadcast BPL 2023 matches. You cannot only watch live cricket matches but football matches and exclusive sports highlights also.
Willow TV
Willow TV provides all cricket action to the people of the USA and Canada and brings all on-demand cricketing activities on your mobile phones. You can enjoy live cricket streaming, Chromecast live streaming, replays, HD Highlights, interactive scorecards, ball by ball commentary, match fixtures, the ability to hide scores, and share your favorite moments on social media.
Willow TV services are available only for subscribers, and by paying just $9.99/m, you can avail of Willow TV. Keep in mind that Willow TV Live Cricket Streaming is only available for subscribers, and Willow does not offer any trial subscription.
If you live in the USA, Canada, or any neighboring country and want to watch BPL 2023 Live online on mobile phones or smart TV, just grab the subscription and watch all live cricket fun on your screens. 
Etisalat TV
Cricket lovers from Egypt can download Etisalat TV mobile app on their mobile phones to watch BPL Live games online. Etisalat TV is an OTT Streaming platform providing TV Shows, movies, Live Sports, and News in Egypt.
Etisalat TV offers two types of subscriptions, basic and premium. Basic subscription provides 53 channels and 4000 hours of TV series up to 4 devices, and 1.5GB of data whale premium subscription provides 95+ channels with more than 10,000 hours of TV Series up to 4 devices and 3GB of data. You can tune in to sports channels to watch BPL live matches. 
Etisalat TV is available in both English and Arabic.
Cricbuzz
Cricbuzz is one of the most famous live score cricket apps in the world for Android and iPhone users. Crcbuzz live score app is very facile and contains multiple features like the live scorecard ball by ball commentary for live cricket matches.
Cricbuzz is a free cricket app with a very clean and easy-to-use interface. One can easily navigate through all the features. All big cricket tournaments like ICC Cricket World, T20 Cricket World Cup, IPL, PSL, CPL, BPL, and other worldwide matches are available on Cricbuzz without becoming disorientated in details.
Download the Cricbuzz app if you want an adequate experience of free live cricket apps.
The Official ICC App
The Official ICC App is a great app to follow international cricket tournaments. It provides live coverage of all international matches across the globe, including scorecards, live commentary, schedules, fixtures, highlights, rankings, and cricket news.
You can follow BPL live coverage on the ICC official app, ball by ball updates, commentary, exclusive highlights videos, interviews, breaking news alerts, and much more.
Sometimes you face connecting issues, but overall ICC app is an excellent live cricket app.
Fan Code Live App
Fan Code Live is an Indian Premium Sports Live Streaming app that offers cricket live streaming, live score, commentary, and merchandise shopping. Fan Code Live is a very famous cricket app in India with more than 20 million users.
Indian users can watch BPL live on Fan Code Live app; they also can enjoy match highlights, the latest live cricket updates, T20 match highlights, exclusive interviews, pre and post-match analysis, and many more.
BPL fans can also watch missing moments in the highlights tab.
Yahoo Cricket App
Yahoo Cricket App is a sports app that lets cricket fans know what is happening in the cricket world. Yahoo Cricket is a comprehensive app for all cricket information.
Yahoo Cricket covers all international cricket events, including Bangladesh Premier League, interviews, HD highlights, the latest news, and much more. Yahoo app also offers Fantasy Cricket Free, and you can play with friends.
Download Yahoo Cricket app for Android and iPhone to get fast live scores, picture in picture experience, latest match updates, and cricket news.
Smartcric
when we think about watching live cricket online on smartphones. We cannot forget Smartcric. Smartcric app s a great source to watch live cricket online for free. You can find all live matches on the Smartcric app and website. The fantastic thing about Smartcric is that you do not need to pay a single dime to watch cricket live streaming.
Smartcrc BPL 2023 Live Streaming will also be available to watch after the start of the tournament. All you need to do is open the Smartcric website on your phone, and you will see the list of all ongoing live matches. Select your favorite game and enjoy it in full HD. Furthermore, you can download the Smartcric apk for all live cricket action.
OneCricket App
OneCricket App is not so popular, but it is an excellent live cricket app to check and pin live scores and watch live cricket matches. You can keep in touch with live scores while doing other stuff on your smartphone.
OneCricket App brings all cricketing series, and domestic and international tournaments like IPL, PSL, BBL, BPL, CPL, T20 Blast, and county cricket. You can watch BPL matches live on OneCricket App after the start of the tournament. 
If you are a cricket lover, downloading the OneCricket App is necessary on your phone.
Yupp TV
Yupp TV is also one of India's top apps to watch sports channels online. On Yupp TV, you can watch over 200 Indian live TV channels, including sports channels, catch-up TV, movies, and regional channels.
Yupp TV provides you the entertainment in various genres such as News, Sports, Sitcoms, Drama, and Music. After starting the league, you can watch Yupp TV BPL live matches on mobile phones. 
Yupp TV s available for various platforms like Android, Apple, LGTV, Samsung TV, Roku, PS5, XBOX, Amazon Fire TV, Smart TV, Apple TV, and Scope.
Gtv Live Sports
Gtv live is one of the most popular sports channels in Bangladesh, offering live streaming of all sports events happening in the country.
In today's busy schedule, people do not like to sit in front of the TV, but internet connection is in access of everyone. You can watch BPL Live Streaming by installing Gtv app on your smartphones. Not only cricket streaming, but you can enjoy news, talk shows, and other sports also. 
Gtv Live Sports is available for Android only.
Apps Live Streaming Coverage By Country:
App Title
Available Countries
Hotstar
India, Canada, and the US
YouTube
Worldwide
Willow TV
The United States and Canada
Etisalat TV
Africa, Asia and the Middle East
Cricbuzz
Worldwide
The Official ICC App
Worldwide
Fan Code Live App
Worldwide
Yahoo Cricket App
Worldwide
Smartcric
Worldwide
OneCricket App
Worldwide
Yupp TV
Available in more than 90 countries.
Including the UK, the US, Canada, Australia, New Zealand, Malaysia, India,
and several locations in the Middle East
Gtv Live Sports
Worldwide
Which app should I download to watch BPL 2023 in India?
The best apps to watch BPL 2023 Live Streaming in India are Disney+Hotstar and Yupp TV.
How to watch BPL Live in Pakistan?
The BPL live matches will be available on Geo Sports in Pakistan.
When will BPL 2023 start?
The Bangladesh Premier League 2023 is starting on 06 January.
When will the BPL 2023 final take place?
The BPL 2023 final will take place on 16 February.