Virat Kohli is one of the finest cricketers in the world. Simple workout and diet plan recipe stand him among the fittest sportsmen of 2021.
In this concise piece of writing, we will share some best Gym and diet plans which Virat Kohli uses to stay in shape.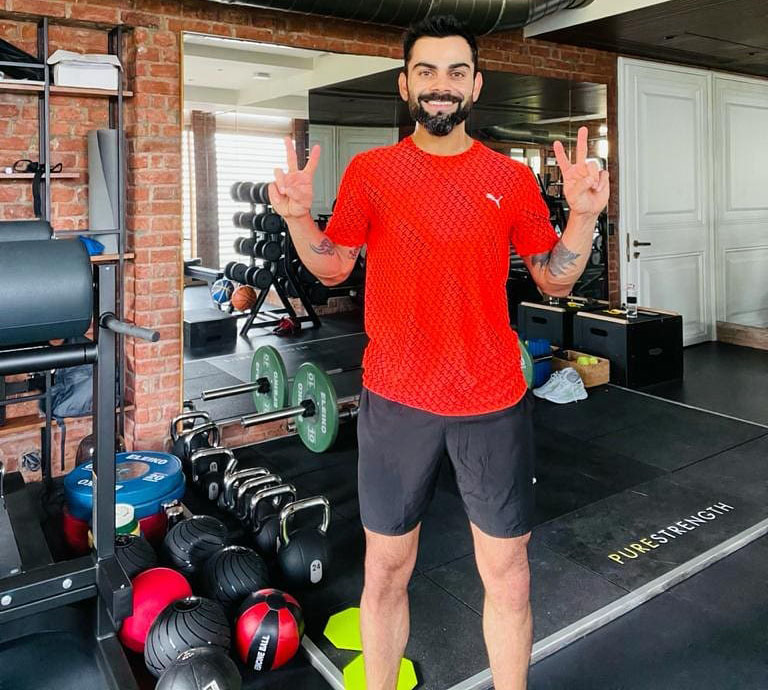 No doubt, Virat Kohli is the shining star of the Indian Cricket Team and a fitness freak who takes good care of his health always. His tremendous energy always puts him one step ahead of his teammates. We always love watching Virat running between the wickets like a Cheetah, scoring tons of runs, and fielding in the ground at full tilt. But have you ever thought about what it takes to get such a well-shaped body like Kohli?
At present, the 32-year-old right-hander has become a fitness idol worldwide, but this is a fact that once Kohli was a roly-poly youngster and today, he has become a health nut. At that time, he was a Desi food lover like every typical Punjabi lad in India. Mutton, butter chicken, and other spicy foods were his favorite, but he gave up everything to become a fitness freak.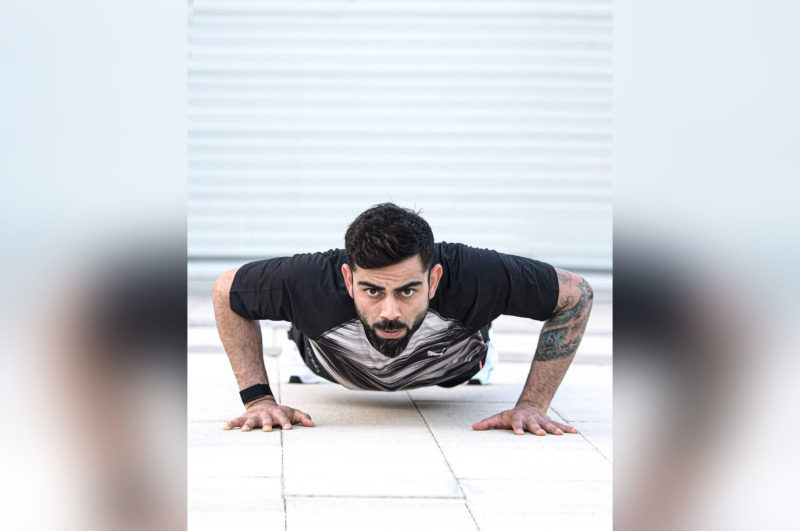 But as you know, the complex task is bound to take a long time. Kohli did not achieve this fitness level overnight. A lesser carbohydrates diet, intense gym sessions, strenuous cardio made him one of the fittest athletes in the world.
Let's take a glance at Virat Kohli's Workout, exercises, and diet plans which will help you to reduce weight and keep you healthy and get a breathtaking body.
Virat Kohli's Secret Diet Plan Which is Effective for Vegans
Being a fitness freak, Virat always prefers to eat home-cooked food. He describes himself as a Foodie who don't eat junk food. In a recent Instagram question-answer session, the Indian Skipper revealed that he eats lots of vegetables, some eggs, 2 cups of coffee, quinoa, and lots of spinach. He also disclosed that he loves "Dosas" (a traditional Indian dish like pancakes). He loves to eat nuts with a cup of black coffee.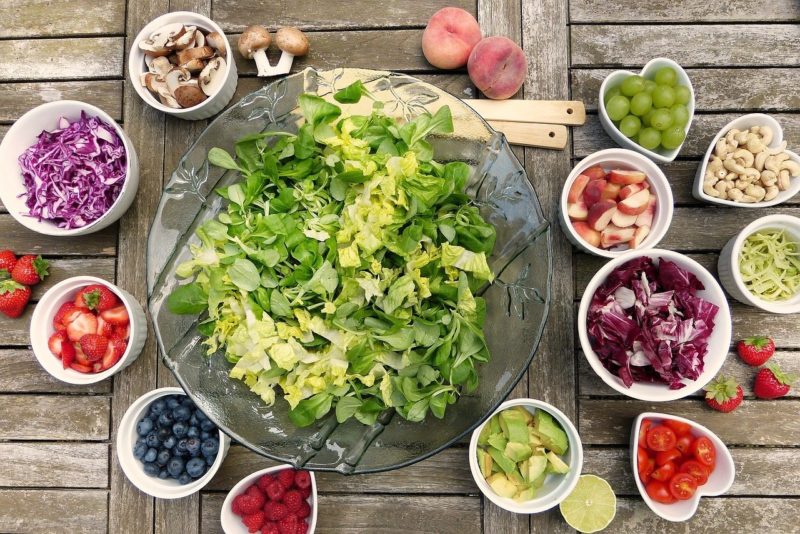 Virat always likes to eat rich Protein foods, which helps him in muscle building. To avoid dehydration and Waterborne pathogens, he drinks Evian Water imported from France.
Virat Kohli Love Eggs for Breakfast
Virat eats an omelet of three egg whites and one whole egg mixed with spinach, black pepper, and cheese for breakfast. He also eats some grilled bacon or smoked salmon with fruits like watermelon and papaya. Virat eats Nut butter with Gluten-free Bread and finishes the breakfast with a big mug of green tea with lemon.
Lunch: The righthander loves to eat grilled chicken, mashed potatoes, spinach, and sometimes red meat for lunch.
Dinner: Kohli said he loves to eat seafood for dinner.
Virat Kohli's Workout Routine and Gym Plans for Fittness and Weight Loss
Since Virat is a gym fanatic, he follows a strict five-day workout and two-days rest routine. He inspired many people to lose weight and become healthy. Virat is truly the trailblazer in the Indian Cricket team for fitness. His workout consists of a combination of weight training, cardio, strength training, and legs training.
Kohli does not drink or smoke to increase stamina, immunity, and focus. Take a look at Virat Kohli's gym plans to lose weight.
1- Running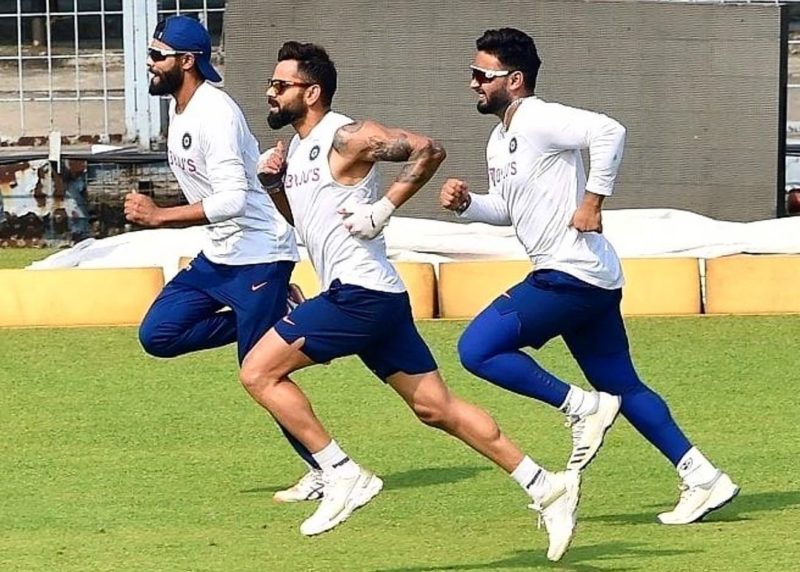 Running is the basic and the best exercise. It does not also reduce your fats but also increases endurance and stamina. Running is an excellent exercise for weight loss, and it helps to grow muscles also. You can burn 705 to 865 calories in an hour by running on the treadmill, and it soothes your mind as well. 
2- Single Handed Pushups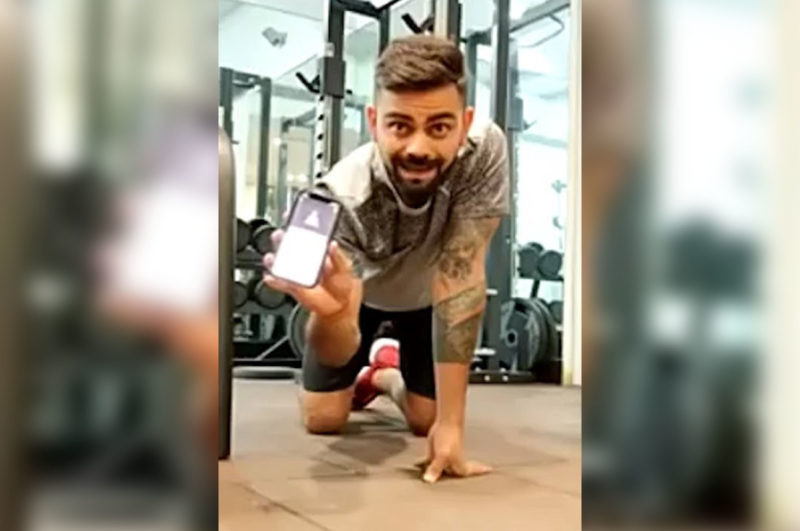 Virat has set a new benchmark for all other players in terms of robustness standards. He likes to do single-handed pushups as they effectively shape your arms, chest, and shoulders. If you want to build upper body strength, then single-handed pushups are your key to success.
This is a magical exercise that boosts your core muscles, strengthens hip muscles, and balances the body. 
3- Weight Lifting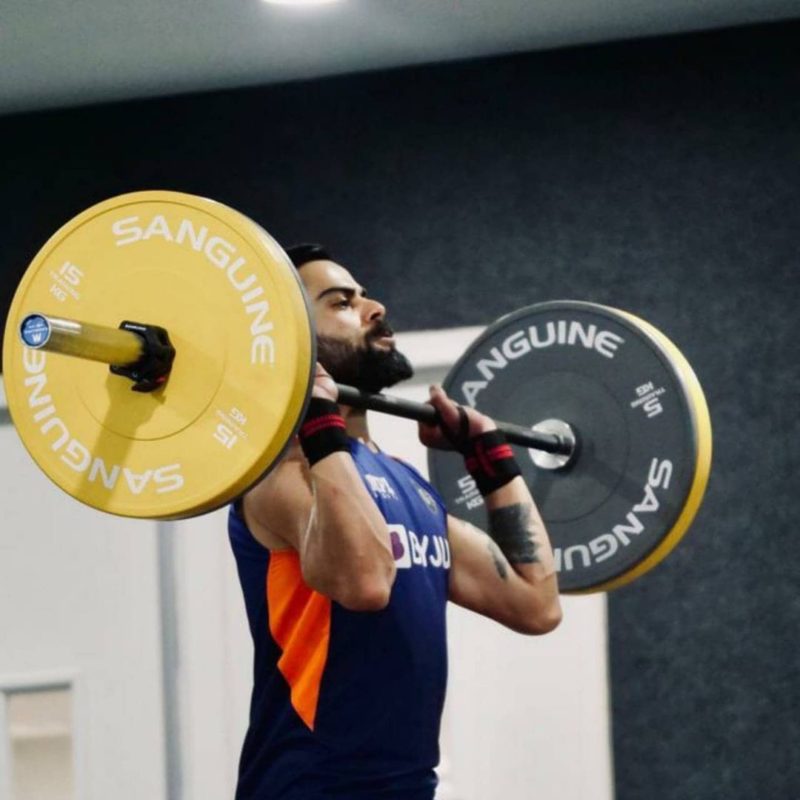 You will have to be friendly with the weights if you want to have a well-shaped body like Indian Skipper. Lift heavy as much as you can, and you will start seeing results in no time. Heavy weight lifting helps you gain muscles, reduce body fat, build stamina, and tone legs.
There are no shortcuts to reduce weight, and weight training requires a lot of hard work and forbearance. Weight lifting provides good results in a shorter period. Do heavy weight lifting for half an hour daily, and you will see a massive improvement in your body. 
4- Swimming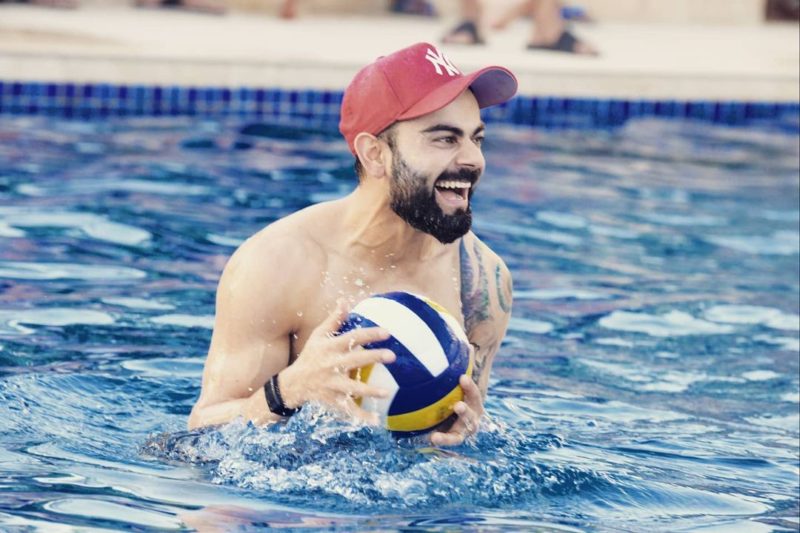 Swimming is a great exercise to burn fats. Unlike running, swimming provides extra resistance and pushes you to use more muscle. You can burn 350 plus calories every day by doing 30 minutes of swimming.  Repetitive gym activities are boring sometimes, but swimming has some stylish ways to keep you in good shape and mood. 
5- Crunches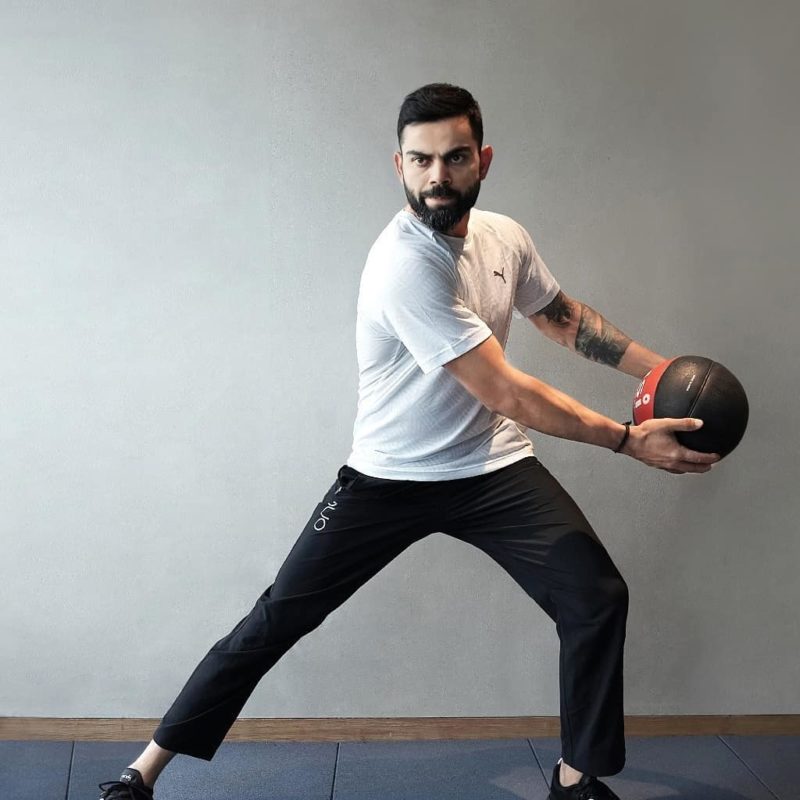 Crunches are the best to lose lower body fats. It is the primary exercise to reveal your six-pack abs. This is also the best exercise to strengthen your core, back, and oblique. Doing crunches regularly will improve your posture and balance. You can burn about 54 calories in a ten-minute crunching session.
Tips to Lose Weight by Virat Kohli
Do exercise daily at any cost.
Avoid junk foods, and eat fruits instead.
Consume healthy and organic food.
Do not overeat at all.
Stay hydrated.
Always have a light dinner and choose your carbs from healthy sources.
A good combination of food and exercise is more effective in losing weight.
Focus on building endurance, stamina, and strength.
Do not smoke and drink alcohol.
Virat Kohli,s workouts are not typical exercises that every ordinary person does in the gym. He is the fittest cricketer in India for some reason. You need some great lower body strength to play cricket, and you do not need a big chest and large biceps.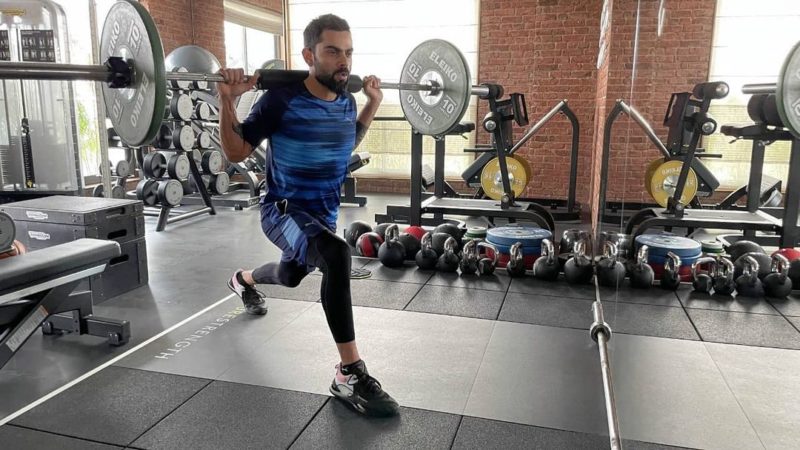 Virat does not perform upper body exercises regularly. He keeps everything straight and straightforward and works on strength and stamina. Virat's sleeping routine is 8 to 9 hours per day which plays a significant role in his fitness. He also read books to increase his mental strength. Virat also meditates regularly to face criticism and distraction.
If you have gone through the whole article, it means you have learned a lot about Kohli's life out of the ground. There is no other way but hard work to accomplish success in life, which Virat is famous for.