India is a country where cricket is not just a sport but a passion, and making it to the national team is an outstanding achievement. However, as the game gains popularity globally, Indian cricketers take their talent and determination to the next level. This trend is particularly noticeable in the USA Women's Cricket Team, where several players of Indian origin are now making a name for themselves. This article dives into their backgrounds and incredible journeys to embrace the spirit of cricket in the USA.
Indian Women Cricketers: Carrying a Legacy Overseas
Let's check out some of the women cricketers who, despite having an Indian origin, play for the USA Women's Cricket Team.
Geetika Kodali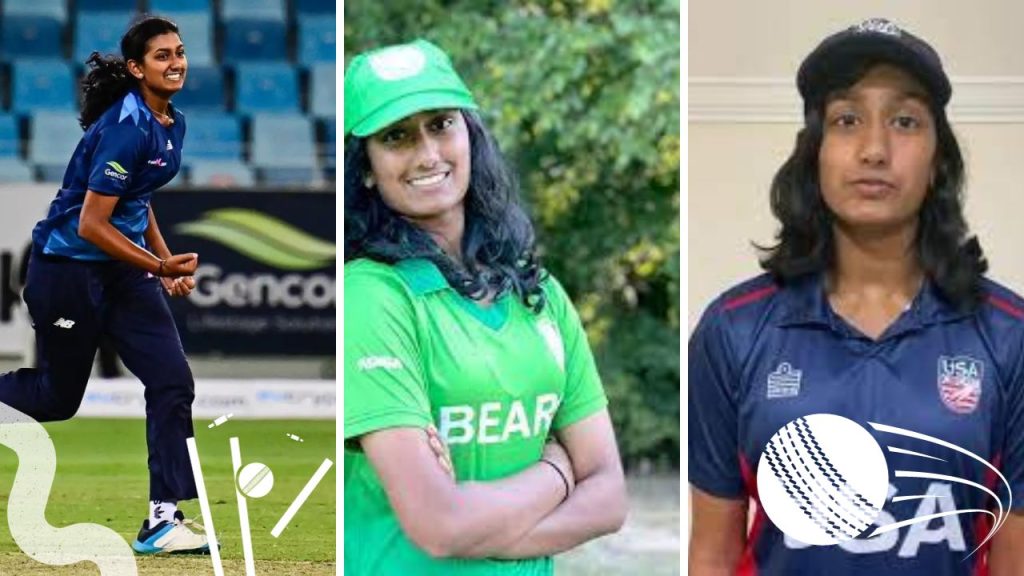 Geetika Kodali, or Geetu or Geets as she's known, is a super-talented cricket player with Indian roots and hails from Vijayawada. She found her love for cricket when she was just 11, playing casually with friends and family. When Kodali turned 15, she became serious about the sport and trained at the Cricket Zeal Academy in California. She has played for organizations like the San Ramon Cricket Association and Triangle Cricket League.
Geetika is a big fan of Josh Hazelwood, the Aussie cricket player. Her supportive parents and talented peers in the cricket community inspire her. Representing the USA in cricket isn't just a source of pride for Geetika; it's an opportunity to wear the iconic red, white, and blue jersey and make lifelong friends.
Sindhu Sriharsha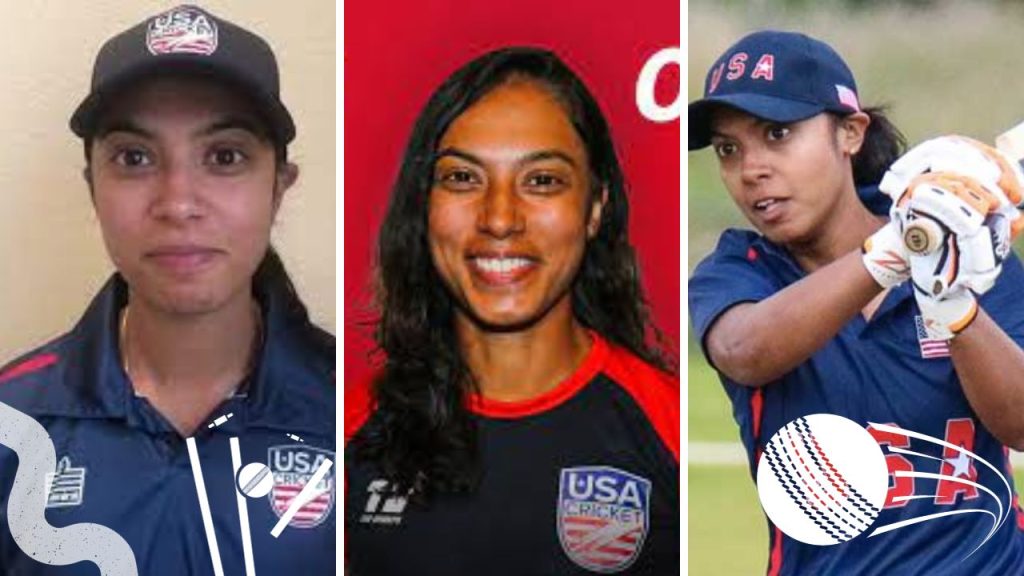 Sindhu Sriharsha, also known as "Sins" by her teammates, is a wicketkeeper-bat from Livermore, California. Originally from Bangalore, India, her cricket journey began at the age of nine with street cricket, or "gully cricket" as it's called in India. Her parents, especially her mother, nurtured her love for the game. Though her mother never played, she found fulfillment through Sindhu's passion and success in cricket. Sindhu's parents had a major role in shaping her career, prioritizing her cricket over traditional academics. One of Sindhu's cherished memories is the USA vs. Canada match at the 2019 ICC Americas T20 Qualifier in Florida.
Shebani Bhaskar
Shebani Bhaskar, aka Mandus, Virat, or Captain Cool, is a right-hand opening batter who started playing cricket at 11. Originally from the USA, she began her cricket journey in Kolkata, India, where her dad worked. She was the youngest player selected for the West Bengal Under-16 team. She's played for Atlanta Pearls, CanAm United, Tristate Lynx, Universities Women's Cricket Club in Sydney, Australia, and the University of Tasmania in Hobart, 
Shebani is incredibly proud to represent Team USA and considers it a great honor to wear the American colors. One of her most unforgettable cricket moments was when Team USA defended 79 against a Queensland XI in Australia.
Chetnaa Prasad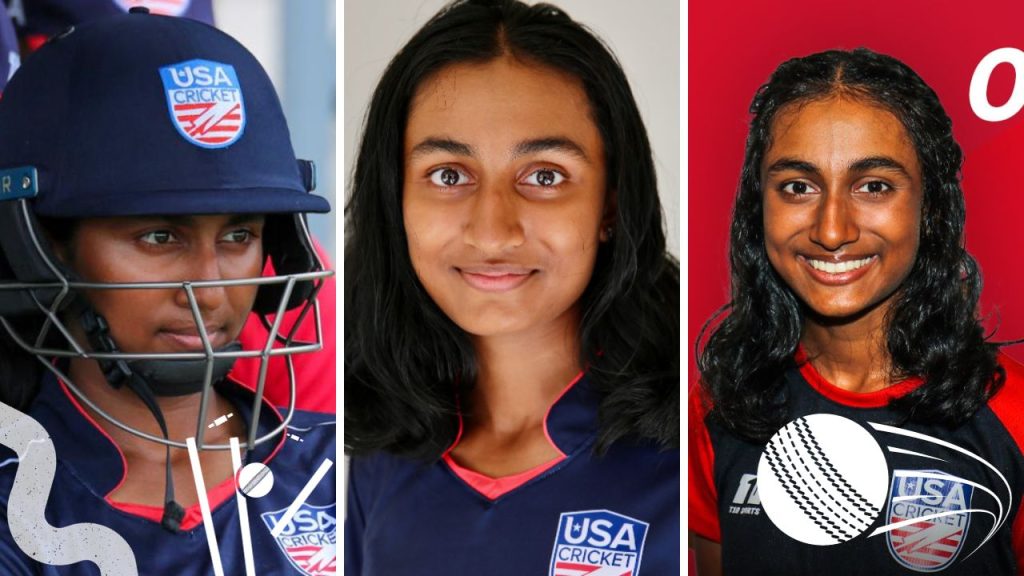 Chetna Prasad, known as Chets by her teammates, is a super-talented allrounder from California who loves cricket. She's been playing for different academies and clubs like the California Cricket Academy and Northern California Cricket Academy. 
Chetna gives credit to her family for supporting her cricket journey. Some of her proudest moments include her outstanding performance in the USA's T20 inaugural domestic pathway for women's cricket tournament and a brilliant 130-run partnership against Somerset County. Chets keeps pushing herself daily, fueled by her passion for cricket.
Gargi Bhogle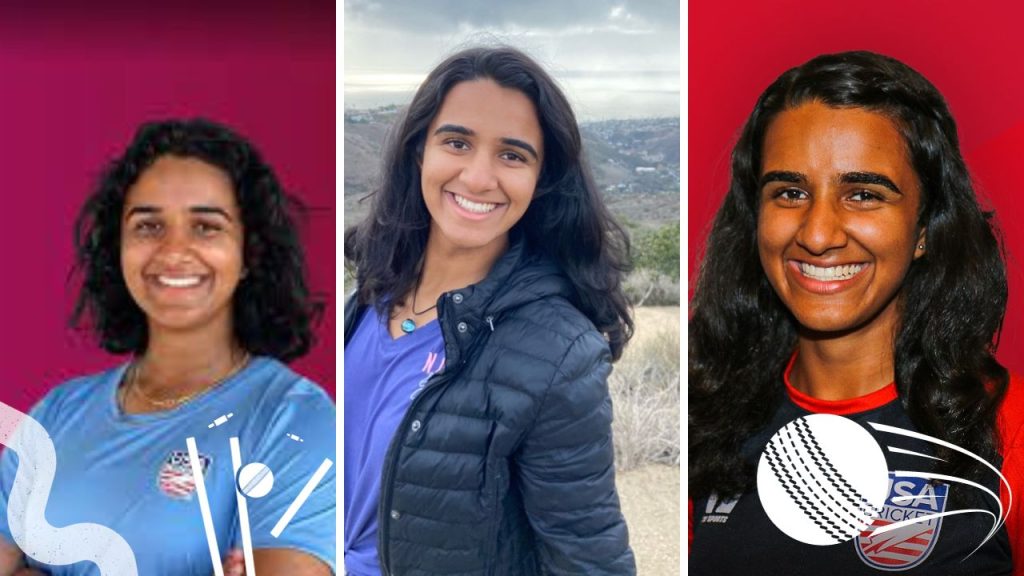 Gargi "Gargs" Bhogle, a Rancho Santa Margarita, CA resident, is an impressive cricketer who began her journey in the sport at 14. With Indian roots as her inspiration and her dad as her coach, she excelled as a left-handed top-order batter, wicketkeeper, and right-arm off-spinner.
Gargs has played for numerous teams, including AHM Yodhaz, Casuals, SoCal, and the Southern California Youth Cricket Association.  Representing the USA against Zimbabwe in the ICC's 2021 Women's World Cup ODI Qualifier was one of her proudest moments.  Representing her country in cricket is an important part of her life, and she is immensely proud of her achievements.
Suhani Thadani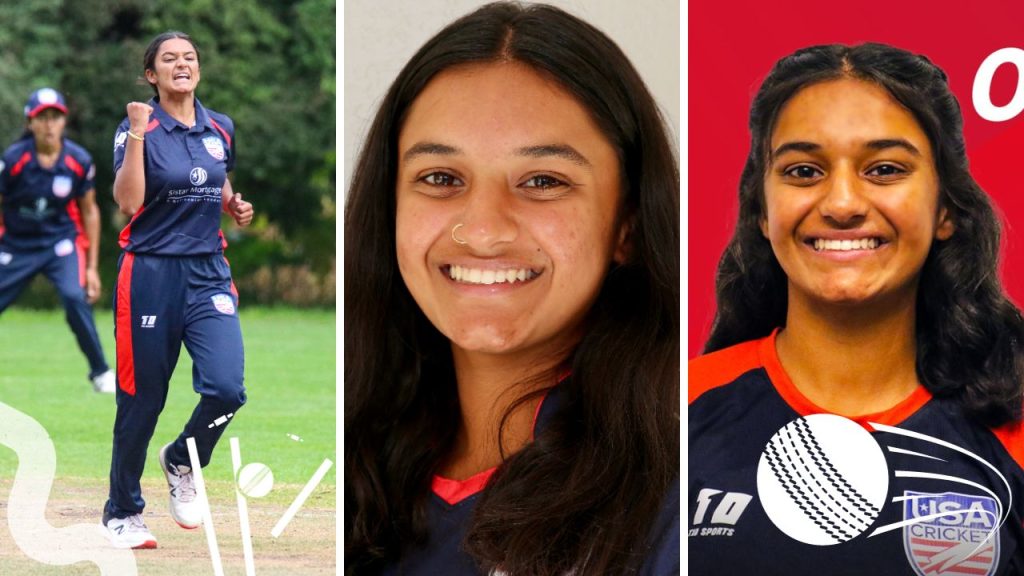 Suhani Thadani is a passionate cricketer hailing from California and originating from India. She started playing the sport at nine and has made up her career as a right-arm medium pacer and batter.
Suhani has had the honor of representing the USA in international cricket competitions. One of her most memorable experiences was making her international debut in Mexico City in 2021 during the ICC Americas T20 Qualifiers. Winning the qualifier and taking a wicket on her first ball, witnessed by her proud parents, are some of her most memorable cricketing moments. 
Inspired by Australian cricket captain Pat Cummings, Suhani continues to pursue her cricketing dreams, driven by her family's support and the joy of seeing her team succeed.
Akshata Rao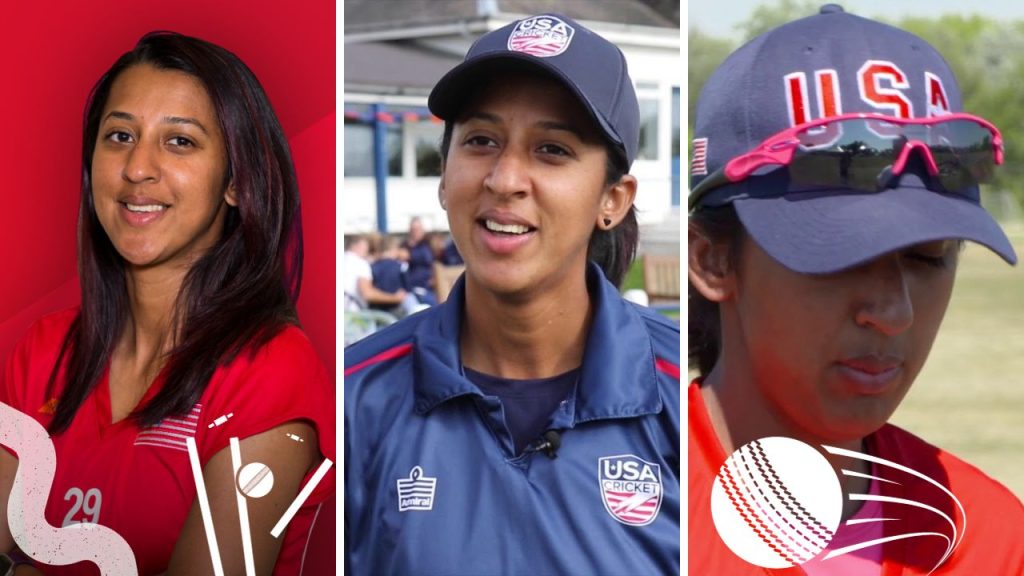 Akshatha Rao, also known as Aks, is a professional cricket player from Mumbai, India. Her cricketing journey began on the streets of Mumbai and led her to professional cricket at the Karnataka Institute of Cricket. Aks started playing with a leather ball at 23, making her a late bloomer in the sport.
As a right-arm off-spinner, she admires cricketing legends like Nathan Lyon, Deepti Sharma, and Graeme Swann. Aks has represented the Northern California Cricket Association and Atlantis Cricket Club – NY. She feels honored to represent the USA and aims to inspire future female cricketers. She constantly works on improving herself physically and mentally for the game.
Aks made her T20 international debut for the USA at the 2019 ICC Women's Cricket World Cup Qualifier in Scotland, where she took back-to-back wickets in her first deliveries.
Moksha Chaudhary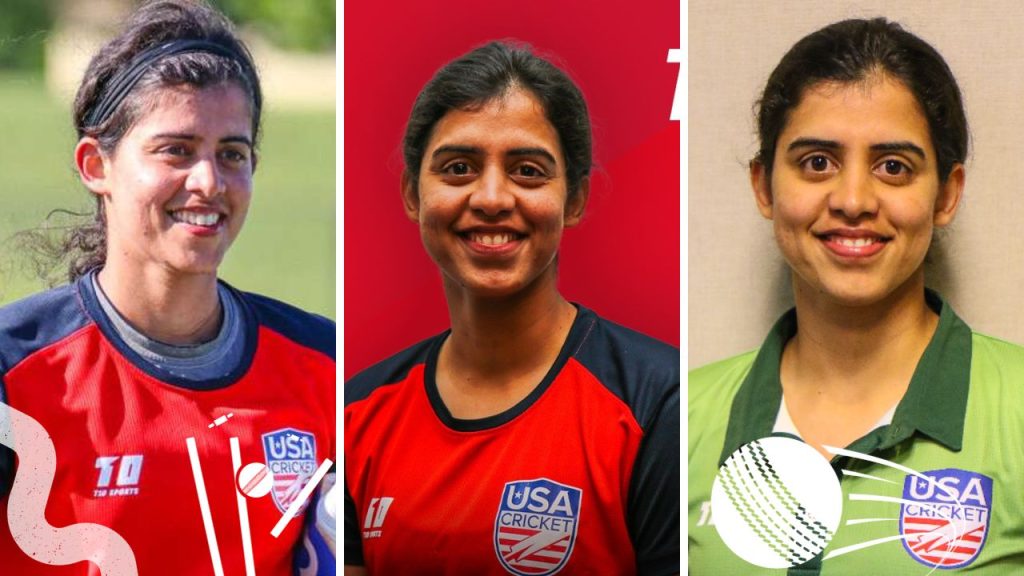 Moksha Chaudhary, or Moksh as her teammates call her, went from gully cricket to international success. A 15-year journey shaped by early coaches in India. She is now representing the USA.
She represented teams such as the Punjab Cricket Association, India Blue – Women's Challenger Trophy, Maverick Valley Cricket Club, and Atlantis Cricket Club – NY.  2013, she aimed for a spot on India's World Cup team. 
Moksh idealizes Glenn McGrath and Jhulan Goswami and dreams of representing the USA in cricket. Her passion and standout performances, like Player of the Match against Argentina in the 2021 ICC Americas T20 Qualifier, drive her. She also took four wickets against Zimbabwe in the 2021 ICC ODI Qualifier. 
Lisa Ramjit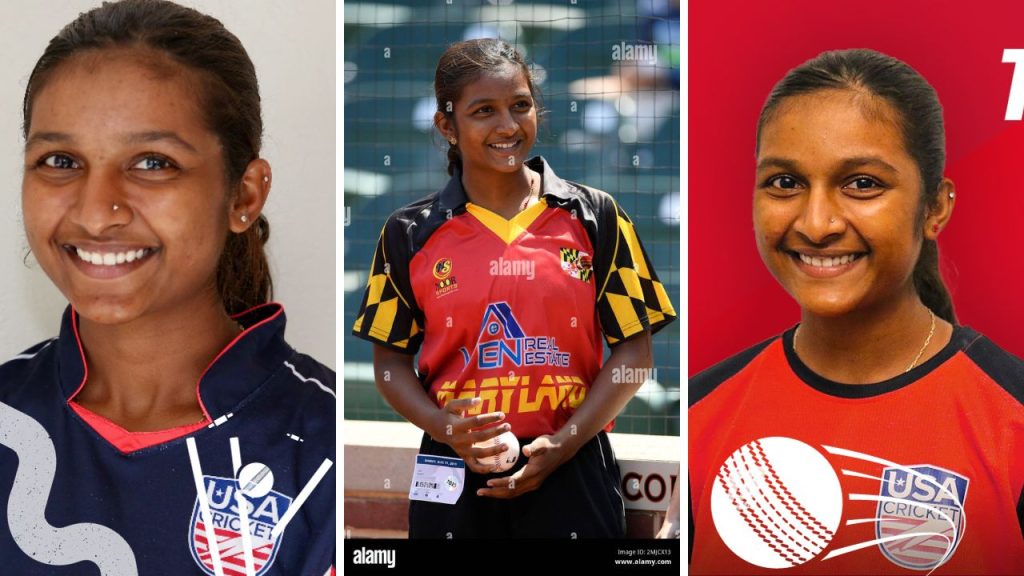 Lisa Ramjit is an incredible top-order American Women's Cricket Team batter. She started playing at seven at the Bowie Boys & Girls Club in Maryland. Her parents moved to the United States from Guyana, where they played cricket. They are also of Indian descent. Since then, she has achieved remarkable milestones. In her first match against Canada, she took the USA's first T20 international wicket, which remains one of her top cricket moments.
Lisa has played for various teams, including her local club, the USA's Under-19, and Senior Women's teams. Her love for cricket and her family's inspiration keeps her motivated. Despite her young age, she has impressive stats, such as scoring 68 runs in a practice match against Sri Lanka.
Conclusion
Cricket is India's most loved sport, and Indian Players have always been killing it. The cool thing is that female Indian Players are rocking it by getting selected for the USA Women's Cricket Team. Cricket is gaining momentum in the USA. Fingers crossed that these Indian female players in the USA Cricket Team rock it in the upcoming leagues and tournaments, shining a light on their country's name!