IPL 2021 is contagious. Once you hooked watching IPL games there is no way back. 😀
Let's get straight to the topic.
How can someone watch IPL Free? because free sounds fantastic 😉
In my previous article, i have cover the best apps to watch IPL live on mobile. You can check this list here.
Today, I am writing this article for free watching IPL 2021 from a different perspective. Because most of the visitors complained about the apps which are promising to stream IPL free are not actually free.
Stop using these apps (Not recommended)
First of all stop search these apps which are discussed by many websites as a free way to watch IPL.
ThopTV IPL Live
Oreo TV App
Above are two Apps but the list is too big. The problem with these Apps is not like the don't have IPL live channel. But they are compromising the copyrights of Hotstar and Star Sports which invested money to buy IPL 2020 live streaming rights.
2nd, You will be disappointed after installing these apps. Because you still can't watch the game because heavy server load and too many ads. You will end up with a headache and mobile full of notifications and some kind harmful viruses.
Google Play and Apple App store banned these apps for a reason. because these are not safe to install for users.
So, the only option available to watch live IPL is getting Hotstar application.
But obviously you are here in search of free.
How to Get Free Hotstar Subscription for IPL 2021 Live
The heading above surely interesting. Free always good. 😀
But wait…
You have to follow the correct instructions and step by step process to get free IPL live streaming on Hotstar.
Note*: The method discussed below is only for Airtel and Reliance Jio customers. The for the lucky people who used to online shop on Flipkart.
Let's break down each of this one by one.
How to Watch MI and RR Match with JIO TV App Free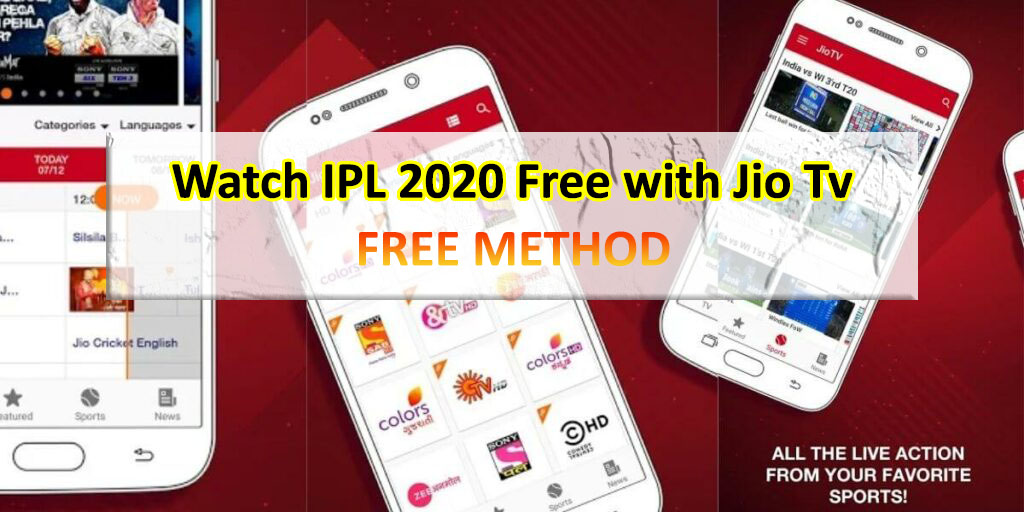 If you are customer of Reliance JIO then there is a good news for you. You can watch all 60 matches of IPL 2020 on Hotstar free through relaince JIO sim card.
All you have to follow the instruction below to get started:
Step#1: Make sure you have an active reliance JIO Sim with balance.
Step#2: Download Jio Tv and Disney+Hotstar from Google Play or Apple App Store. Follow the links below to download the apps.
Download Jiotv Google Play App
Download Jio Tv Apple App
Download Hotstar from Google Play
Download Hotstar from Apple Store
Step#3: Now open Jio Tv app on your mobile phone and select data plan.
Note: You have to choose data plan very carefully. Because IPL free offer is not available on all data plans. See the table below and choose the exact plan from Jio Tv app.
| Plan Price | GB Per DAY | Validity | Free IPL 2021 | Voice | SMS / Day |
| --- | --- | --- | --- | --- | --- |
| INR 401 | 3GB/ Day (6GB Extra) | 28 days | 90 GB & Disney+ Hotstar | Unlimited | 100 SMS/day |
| INR 777 | 1.5GB/ Day (5GB Extra) | 84 days | 131 GB & Disney+ Hotstar | Unlimited | 100 SMS/day |
| INR 2599 | 2GB/Day (10GB Extra) | 365 days | 740 GB & Disney+ Hotstar | Unlimited | 100 SMS/day |
| INR 598 | 2GB/Day | 56 days | 112 GB & Disney+ Hotstar | Unlimited | 100 SMS/day |
| INR 349 | 3 GB/day | 28 days | 84 GB + Free IPL Live | Unlimited | 100 SMS/day |
| INR 199 | 1.5 GB/day | 28 days | 42 GB + IPL Free | Unlimited | 100 SMS/day |
Step#4: After activating the JIO TV plan wait for 10 minutes. Your Hotstar subscription will automatically activated.
Step#5: Now open Hotstar application on your mobile phone or Smart TV. Click on Sign-in and enter your Reliance mobile number then click on login. You can get OPT code on your mobile messages and enter the OPT code carefully in Hotstar App.
Step#6: Now you can watch IPL live on hotstar free along with block buster movies and TV serials. To watch IPL live match, goto sports menu and select "Cricket". Now tab on the big banner which is showing IPL today's watch. Watch and enjoy the show.
Good News for Reliance JIO Fiber Customers
Here is a fantastic good news if you have JIO Fiber connection at home. With JIO internet connection you can watch IPL matches free of cost on Hotstar.
Here are the list of JIO Fiber Plans Which Include Free Hotstar Subscription.
JioFiber Diamond plan for Rs 1,499 (300Mbps speed)
JioFiber Diamond+ plan for Rs 2,499 (500Mbps speed)
JioFiber Platinum plan for Rs 3,999 (1Gbps speed)
Other free services with these plans:
Sony Liv
Jio Cinema
Voot
Zee5
Free IPL Match Airtel (Hotstar+Airtel Free Method)
Like Reliance Jio Airtel also provide the fantastic IPL offer for fans. To avail this free offer you have to Airtel customer and must have active airtel sim card. You don't have to pay Hotstar monthly and annual subscription free to watch IPL.
Follow the steps below to watch IPL with Airtel + Hotstar Working Method.
Step#1: I assume you are already an active airtel subscriber with working sim card in your mobile phone.
Step#2: Download Airtel and Hotstar Application on your phone like did in the previous steps. For your convenience here are links for Google Play and Apple Store below:
Step#3: Now open Airtel app on your phone and choose the package which include IPL live streaming offer.
In RS 599 Airtel gives you 2GB data per day and valid for 56 Days. Besides this, this plan offers unlimited voice calls and bundles. This package specially designed to watch IPL and comes with Free Hotstar VIP subscription.
If you are low on budget you can also subscribe to smaller packages for RS448 with 28 days of validity. Which means You can watch 28 IPL 2020 live matches for free. This package comes with 3GB data per day which is enough to stream the live match in HD quality and unlimited voice calls.
Annual Plan: If you want to save a lot of money then the yearly plan is best for you. in RS2698 you will get 365 days internet data and Hotstar subscription for full one year. Free voice calls also included.
Step#4: With successfully subscribing to Airtel plan your Free Hotstar subscription will automatically activated. You just need to sign-in with your Airtel number.
Hotstar Subscription Price in Flipkart Supercoins
If you regularly shopping on Flipkart then you might have a chance to watch IPL 2020 Free. When you purchase something on Flipkart you earn Supercoins as a cashback. For exmaple: if you spend Rs 100 on Flipkart you will get 2 supercoin in return which you can redeem to purchase Hotstar subscription.
To check the available Supercoin, open Flipkart app or website and login to your account.
Then click on Supercoin to see the available balance.
How many Flipkart Supercoins for Hotstar Subscription?
Disney+ Hotstar VIP annual subscription for 399 SuperCoins
Disney+ Hotstar Premium annual subscription for 1,499 SuperCoins
You are lucky if you save more than 400 coins. 😉