The Punjab Cricket Association Inderjit Singh Bindra Stadium is located in Mohali, Chandigarh CR. It is popularly known as the Mohali Stadium. The Stadium was built by Geetanshu Kalra from Ambala and is home ground to the Punjab Team. The stadium construction was done in 3 years that took around 25 crores. Its construction was done by Ar. Khizir and associates, Panchkula and constructed by R.S construction company. This stadium is the 19th and the new test cricket venue in India. The first test match held here was between India and West Indies on 10 December 1994. One of the most famous one-day matches on this ground was a thrilling Cricket World Cup semi-final encounter between Australia and West Indies in February 1996. First T20 International match held here in 2009 when India beat Sri Lanka by 6 wickets. Punjab Cricket Association is the owner of this ground. This stadium has a sitting capacity of 26950.
Update: IPL 2021 is likely to be held in India.
Upcoming IPL 2021 Matches in IS Bindra
IPL season 14 is now coming back to the domestic venue. The official schedule will be announced after the auction on 18 February. In the meantime, here is the tentative schedule.
Pitch Report
When India took on the West Indies in a Test match back in 1994, the wicket was lightning fast. The Windies pacers took advantage of it to thump India by 243 runs. Even when Australia played the Caribbean outfit in the 1996 World Cup, the wicket offered good carry and bounce for the pacers. However, since then, it has slowed down and has turned out to be a good wicket for batting. Even scores of over 180 have been chased down in the history IPL at the ground.
The Current pitch curator for this stadium is Daljit Singh and the design consultant is Ar. Sufyan Ahmad. The pitch is one of the greenest pitches of India and as the outfield is lush green, the ball keeps its shine for a long time. The Mohali pitch is also known as slow down later on and is a paradise for batting. This pitch has a reputation of supporting pace bowlers, however, it had slowed down and assists spin bowling. The boundary to wicket distance is about 75 yards. The stadium also boasts of a lush green area. It has 3.85 acres' size.
Ticket prices
IPL Mohali Tickets Price 2021 of the IS Bindra Stadium is in the average range to gather the maximum crowd. IS Bindra Stadium tickets price is kept pocket-friendly for cricket fans. IPL Mohali Tickets Price 2021 starts from 950 INR and goes up to 8500. Many other rate categories are also declared in the middle of minimum and maximum ticket cost. IPL Ticket price Mohali list PCA stadium has been shared by us after the official announcements.
Start price – 950 INR
Highest Price – 8500 INR
Other Rates – 1300, 2500, 3000, 3500, 7500, etc.
Some tickets might be available through the offline mode also. Nowadays, most of the IPL Mohali tickets are available online and some of the offline tickets might be sold through offline channels.
PCA IS Bindra Stadium Wiki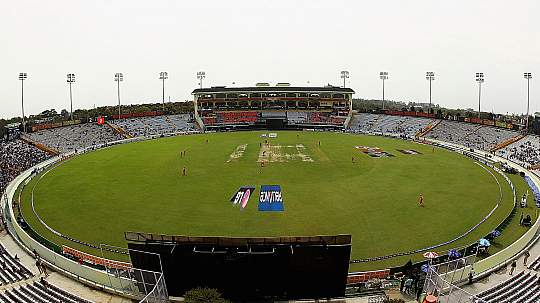 Membership Rates
S.NO.
TYPE OF MEMBERSHIP
ENTRANCE FEE
ANNUAL SUBSCRIPTION
1.
PCA Associate Membership
30,000/-(Tax extra as applicable)
NIL
PUNJAB CRICKET CLUB
2.
Town Membership
1,70,000/-(Tax extra as applicable)
3,600/-
3.
Country Membership
1,70,000/-(Tax extra as applicable)
3,600/-
4.
Over 65 Years
1,70,000/-(Tax extra as applicable)
1,800/-
5.
Cricket Member
20,000/-(Tax extra as applicable)
3,600/-
* A Life Member will be required to be a member of the Association also.
Parking
The parking area, outside the PCA, IS Bindra Stadium, which is usually free for vehicles, was hijacked by the employees of a private contractor, and fans who had come to enjoy the India-New Zealand match were charged INR 50 to park their vehicle in the Phase-IX market. The employees were issuing a slip for INR 30, which had 'IPL paid parking' written on it. Interestingly, the employees were openly using the name of the Mohali Municipal Corporation and were not hesitant.
Entry rules
Some things are strictly prohibited to take in the Kotla stadium like
Headphones
Water bottles
Coins
Food items
Bags
While you should have only your cell phone, wallet and match ticket along with you.
Facilities
You can have a bundle of facilities under one room here in this stadium as it is well renovated by the PCA. Training facilities, ground to play, accommodation and food, everything is available here under one roof. Although it'd non-functional, revenue can still be generated from this stadium. However, PCA should also look over for toilets as these are not in good condition for the audience. Given the significance of the newly-laid stadium, just after 30 minutes of rain, the ground would be fit for the game, as per the plans which have been chalked out for the sub-surface drainage system. It has been estimated that the project of the three-tier stadium will cost nearly INR 150 crore. The sporting wickets, lush green outfield, spacious dressing-rooms, excellent practice-facilities and state-of-the-art gymnasium at the PCA Stadium, have been hailed by cricketers the world over.
Stadium Stands
We have here names of different stands in this stadium and their respective capacities,
AC Lounge – 600 Pavillion Terrace – 2580 VIP Block – 5439
Chair Block – 9339
Student Block – 2500
North Pavillion – 600
PCC Members Block – 5400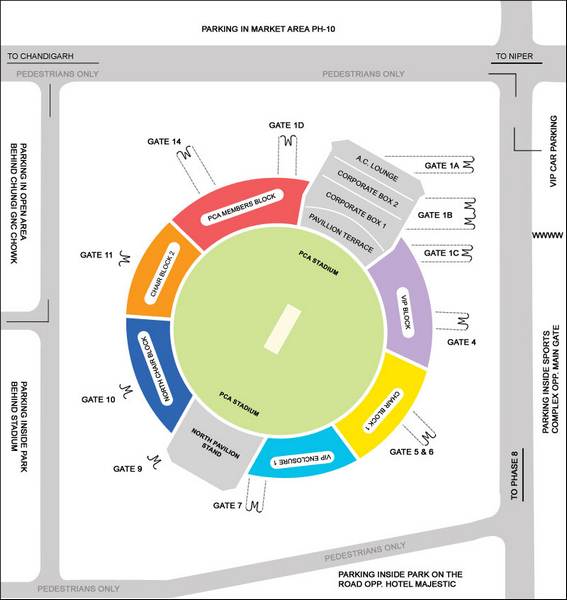 Some interesting Facts
Highest Team Total – India 392/4 vs Sri Lanka (2017)
Lowest Team Total – Pakistan 89 all out vs South Africa (2006)
Best Individual Batting Performance – Rohit Sharma 208* vs Sri Lanka (2017)
Best Individual Bowling Performance – Makhaya Ntini 5/21 vs Pakistan (2006)
Most Runs – Sachin Tendulkar (366)
Most Wickets – Harbhajan Singh (11)
IS Bindra Stadium Statistics
ODI Statistics
Total Match Played: 25
Batting First Won: 15
Batting Second Won:10
Tie: 0
Avg. Score in 1st bat: 272
Highest Score: India 392/4
Lowest Score: Pakistan 89/10
T20I Statistics
Total Match Played: 5
Batting First Won: 2
Batting Second Won: 3
Tie: 0
Avg. Score in 1st bat:178
Highest Score: Sri Lanka 206/7
Lowest Score: South Africa 149/5
T20 Domestic
Total Match Played: 56
Batting First Won: 24
Batting Second Won: 32
Tie: 0
Avg. Score in 1st bat: 166
Highest Score: Chennai Super Kings 240/5
Lowest Score: Delhi Capitals 60/10
Nearest railway station
The nearest railway station to Mohali is still couldn't find. But as soon as it is updated then you will be informed about it at first.
Nearest hotels
FabHotel benz is located in Chandīgarh, 6.8 mi from Rock Garden and 1.3 mi from Mohali Cricket Stadium. Every room is equipped with a TV. Sector 17 Market is 5.6 mi from Rooms Phase 9 Industrial Area, while Sukhna Lake is 6.2 mi away. The nearest airport is Chandigarh Airport, 3.1 mi from Rooms Phase 9 Industrial Area. Most popular facilities include free WIFI, 24-hour front desk, room service and parking. Here is the contact number of this hotel +91 70424 24242.
FabHotel ocean Located in Chandīgarh, within 12.9 km of Rock Garden and 8 km of Mohali Cricket Stadium, FabHotel Ocean has accommodations with a terrace as well as free private parking for guests who drive. Among the facilities of this property are a restaurant, a 24-hour front desk, and room service, along with free WiFi throughout the property. The hotel has newspapers and a fax machine and a photocopier that guests can use. Here is the contact number of this hotel +91 70424 24242.
FabHotel Sheronz Piccadily Chowk Located in Chandīgarh, 5.8 km from Rock Garden, FabHotel Sheronz Piccadily Chowk has accommodations with a restaurant, free private parking, and a bar. Among the facilities at this property are a 24-hour front desk and room service, along with free WiFi throughout the property. The hotel has family rooms. Here is the contact number of this hotel +91 70424 24242.
JW Marriott Hotel Chandigarh JW Marriott Hotel Chandigarh is a luxurious 5-star hotel located 11 mi from Chandigarh Airport. Featuring spacious air-conditioned rooms, the property also features a spa and wellness center and a rooftop pool. Free parking is available on-site. Here is the contact number of this hotel +91 172 455 5555.
IS Bindra Stadium Contact Information
Address: Punjab Cricket Association, I.S. Bindra Stadium, Sector-63, SAS Nagar, Mohali -160 062