T20 International cricket is a thrilling game packed with non-stop action, injecting an adrenaline rush into the traditional format. The format condenses cricket into a fast-paced spectacle that captures the attention of fans worldwide. With only 20 overs in which to build a match-winning score, top T20I batters are in high demand. The best T20I batsmen combine outright aggression with finesse and precision, and the ICC ranks the following five stars as the top T20I batsmen since records began.
Dawid Malan – England – 915 ranking points
According to the International Cricket Council (ICC), England's Dawid Malan is the all-time number-one T20I batsman. Malan has amassed 915 ranking points, putting him ahead of the chasing pack. Malan is a top-order batsman who represents Yorkshire in domestic cricket but has previously played for Middlesex and the Punjab Kings in the Indian Premier League.
Malan has played 62 T20I games for England and is often a favorite in the cricket betting markets to be the top run scorer. In those 62 games, Malan scored 1,892 runs with a batting average of 36.38, impressive figures helped by scoring 50 half-centuries and one century.
When Malan finished with an unbeaten 103 against New Zealand in November 2019, he became only the second Englishman to score a century in T20I. Four Englishmen have now achieved the feat, but Malan scored his from only 48 balls, making it the fastest T20I century by an England player.
Suryakumar Yadav – India – 910 ranking points
India's Suryakumar Yadav is the current world number one in the T20I batting rankings and second in the all-time standings; Yadav has 910 ranking points in the latter. Yadav is a one-day specialist with an almost unnatural ability to score runs in limited-overs cricket.
His 53 T20I matches for India have ended with the 33-year-old scoring 1,841 runs for a batting average of 46.02. Yadav had racked up at least 50 runs in 15 games and has three T20I centuries on his record. Yadav scored 117 against England in July 2022, was 111 not out against New Zealand in November 2022, and finished with an unbeaten 112 against Sri Lanka in January 2023. That 112 not out came from only 51 balls, and featured ten fours, and six sixes!
Aaron Finch – Australia – 900 ranking points
Aaron Finch is a legendary figure in T20I cricket, thanks to holding the record for two of the three highest individual scores in this thrilling format. The Australian top-order batsman, who has played 103 games of T20I, scored 3,120 runs with a batting average of 34.28. Finch has racked up 19 half-centuries and two centuries; both of the latter are among the biggest run totals ever.
In August 2013, Finch turned out for Australia against England at the Rose Bowl. He faced 63 balls and hit the England bowlers for a staggering 156 runs. Five years later, Finch broke his record in a T20I match against Zimbabwe. This time, he scored a world-record 172 runs off 76 balls, thanks to 16 fours and ten sixes! Afghanistan's Hazratullah Zazai came close to breaking Finch's record in February 2019, but he ended with an unbeaten 162 against Ireland.
Sadly for cricket fans, Finch retired from all forms of international cricket in February 2023.
Virat Kohli – India – 897 ranking points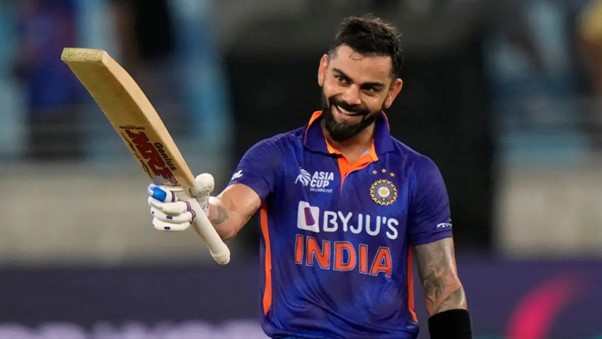 Virat Kohli holds legendary status in limited-over cricket; the man from Delhi, known affectionately as "The King," is the highest run scorer in T20I and the Indian Premier League. The 35-year-old has represented his beloved India in 115 T20I matches, scoring a record 4,008 runs for a batting average of 52.73. Kohli has ended his innings with 37 half-centuries and one century.
Kohli's only T20I century came in September 2022 when India faced Afghanistan at the Dubai International Cricket Stadium in the UAE. Try as they might, the Afghan bowling attack could not stop Kohli from continually amassing runs, and the Indian superstar hit 18 boundaries, including six sixes, on his way to an unbeaten 122. Only Shubman Gill, with 126 runs, has scored more in a single T20I innings for India.
Babar Azam – Pakistan – 896 ranking points
Babar Azam is Pakistan's most prolific T20I batter thanks to scoring 3,485 runs with an average of 41.48 across 104 appearances. Azam excels with the bat in all formats, although he prefers ODI and T20I matches. At the time of writing, Azam has 30 half-centuries on his record and a trio of centuries in T20I matches.
Azam's maiden T20I century came in April 2021 against South Africa. He finished with 122 runs from 59 balls and broke the seven-year record that Ahmed Shehzad set against Bangladesh. In September 2022, Azam finished 110 not out from 66 balls against England in Karachi before recording an unbeaten 101 against New Zealand in April 2023.
Conclusion
The five batsmen this article features are among the elite T20I players of all time. They have nerves of steel and have often been the difference between their team enjoying the sweet taste of victory or heading home on the losing team.
Dawid Malan is the current number one in the all-time standings, but it is only a matter of time before one of the chasing pack overtakes the Englishman. Suryakumar Yadav is a phenomenal talent, and although Virat Kohli is nearing the end of his glistening career, you just know he will want to go out with a bang.
Some incredible batsmen are lurking outside the top five and could claim the top spot if they hit a rich vein of form. The likes of Pakistan's Mohammad Rizwan, English duo Eoin Morgan and Alex Hayles, and India's Lokesh Rahul are all deadly with the bat in T20I and could put in performances that push them above their rivals in the ICC's all-time rankings.