This blog post will explain how and where you can watch the Cricket World Cup in the USA and How to get a Discount on Disney Bundle to watch ESPN Plus. So read on for all the information you need to ensure that you don't miss a minute of this exciting event!
Cricket World Cup Offers in the USA 
If you live in the USA, ESPN+ will provide you with all the Cricket World Cup live streaming, as ESPN+  has all the official rights to live stream the mega event this year. Also, you can catch all the live action on Willow TV. Add ESPN+ on Ruko.
ESPN+
If you want to watch the Cricket World Cup live in the USA, your best option is ESPN+. The network will broadcast all 45 tournament matches, meaning you won't miss any of your favorite games. However, ESPN+ does not offer any trial, but with a monthly rate of $10 and the ability to cancel a subscription anytime, you can try out ESPN+ at a very low rate.
So what are you waiting for? Sign up now and ensure you don't miss a single match of the T20 Cricket World Cup!
ESPN+ Bundles
If you have a tight budget and want to save some bucks on subscriptions, ESPN+ features a few bundles that come up with other famous streaming platforms. Using these bundles will greatly help reduce your monthly entertainment cost. Check out these three ESPN+ Bundles. You can also watch IPL in USA with these bundles.
Disney+, Hulu, and ESPN+ bundle
Disney+, Hulu (No Ads), and ESPN+ bundle
ESPN+ on Hulu bundle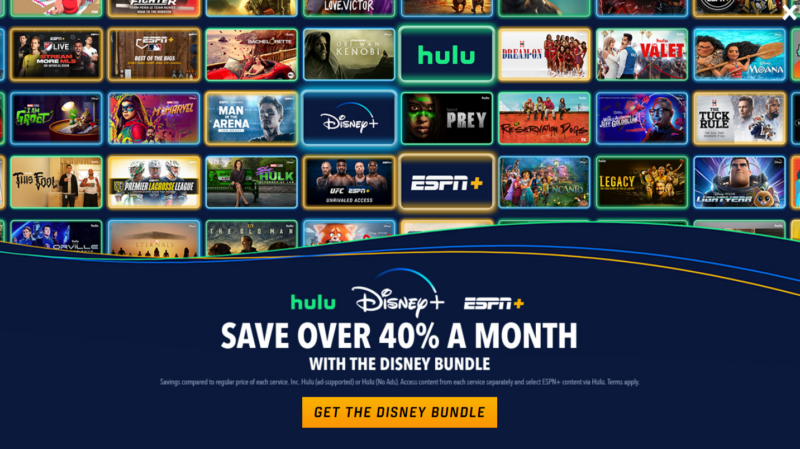 Disney+, Hulu, and ESPN+ Bundle
You can get Disney+ with ESPN+ and Hulu for just $14/per month. This Disney+ bundle will save you $11/per month compared to getting all three services without the bundle.
Disney+ is the most popular streaming service worldwide, offering live sports streaming, movies, shows, Web Series, and much more entertainment. Disney+ and Hulu have on-demand libraries with thousands of hours of film and shows.
You can buy these services separately. Disney+ will cost $8/per month, Hulu will cost $7, and ESPN+ will cost $10/ per month. And you can get all three in the Disney+ bundle for just $14/month and cut down on costs for three services.
Disney+, Hulu (No Ads), and ESPN+ Bundle
If you want to watch Hulu without ads, you can pay $22/ per month for the same Disney+, Hulu, and ESPN+bundle but with no ads for Hulu's on-demand library. The Hulu with no ads separately costs you $13/ per month.
How to buy ESPN+ on Hulu
If you already use Hulu services and want to buy ESPN+, you don't need to get another app to watch ESPN+. You can get ESPN+ on Hulu. However, you will not get any discount on Signing up for ESPN+, as the ESPN+ standard rate is $10/ per month.
So, your best choice would be to get Disney+, Hulu, and ESPN+ bundle.
ESPN+ Deals and Discounts
Apart from these Disney+ bundles, there are a few other ways people can use to save some bucks from the subscription. UFC fans can buy yearly subscriptions to save a lot. You can get the ESPN+ Yearly plan for just $100, saving you $20 for the year.
Get 20% Discount on ESPN+ Bundle
A single UFC Pay-Per-View event costs $75, but there is excellent news for UFC fans they can get a UFC PPV event and a full year of ESPN+ for just $125.
Step by Step Guide on How to watch World Cup Live Matches on ESPN+
Download the ESPN+ app from the official ESPN website and Log In to the app.
If you don't have an ESPN account, there is a button called "Get the Disney Bundle." and a link to Subscribe to ESPN+ Only. Choose your plan according to your need.
You will land on Create account page. Insert your details and press the Sign Up now button.
Choose between monthly or annual plans.
Complete the payment process by choosing PayPal or Credit Card options.
If you have done everything correctly, you will see a "Sucess" Page now.
Now, select the T20 World Cup on ESPN+ and enjoy your live streaming. 
ESPN+ is available for all your favorite devices like Smart TV, Android, Apple, PC, and tablets. The most exciting thing about ESPN+ is that you are not bound to any cable TV and can cancel your subscription anytime.
How Disney+ Bundle is the Best Option for Cricket Fans
In the USA, ESPN+ is the best service for watching Cricket World Cup Live Matches because it is budget-friendly, reliable, and easy to use. With the Disney+ bundle, you can access Disney+, Hulu, and ESPN+ for a discounted price of $14/ per month.
Disney+ offers a great selection of family content, including Disney movies, Pixar movies, Marvel movies, and Star Wars movies. Moreover, Hulu is also an excellent streaming service with a lot of content to offer.
Conclusion
Residents of the USA have several options for watching the Cricket World Cup, like ESPN+, Disney+, and Willow TV. Disney+ Bundle is offering a discount on subscriptions, So whether you're at home or on the go, there's no excuse to miss out on any action!