You are a cricket fan tired of slow cricket scoring apps? Looking for IPL Live Score Apps Faster than TV or need Cricket Scoring Apps in Hindi, Tamil or English Languages then sit tight, we have brought a list of Best IPL Live Score Apps Faster than TV. These apps will provide you IPL Live Score Today Match, Match Scoreboard, Live Score Video, Every Ball Live Score. You can pin these apps to the home screen of your mobile phone to get to know ball by ball IPL score in Hindi, Tamil, or English.
Indian Premier League is the most popular and the most prominent tournament in the cricket world. Every Indian loves to watch the IPL action during the league but most of the young generations want to keep an eye on IPL quick live score by using their cell phones. They need the best cricket scoring apps for updated match scores and the latest news.
TV Alternative -Fastest IPL 2023 Live Scoring Apps.
In this article, we have come up with a fresh topic for cricket enthusiasts. We have compiled a list of the Best Android Apps which are faster than TV broadcasting. These apps will help you to track IPL 2023 Live Score on your smartphones. These apps gather data directly from the ground so the score update speed is lightning fast so you can check the IPL Live Score faster.
Also See: Best Streaming Apps for IPL
Cricstar – Live Cricket Score
Cricstar – Cricket Live Line- Live Cricket Score is one of the best cricket scoring apps to check Fastest IPL 2023 Live Score. This app is developed by Cricket Live Line and the Cricstar – Cricket Live Line latest version is 1.86 and it is available on Google Play Store. This is a very light app (Size only 4.73 MB) and absolutely free to use. You can set Live score notification on it and check live score every ball of IPL all matches. This is the fastest app for Live Cricket Score and provides score faster than TV.
OneCricket – Pin Live Cricket Score
One Cricket is another fast scoring app to check IPL Scores. By installing this app you can Pin IPL Live Score on your home screen or desktop. In this way, you don't need to open the app every time to know about the IPL Live Updates.One Cricket provides you the lightning fast experience live score feature.Furthermore, IPL Live Score Audio Commentary is also available on One Cricket. One Cricket app size is only 14.63 MB and it is available to download on Google Play Store.
Download for Android and Apple Phone
Cricket Fast Live Line
Cricket Fast Live Line is an amazing lightweight app to check Live Score with minimal battery and data usage.You can enjoy the IPL 2023 Live Cricket Score faster than TV. Just download the application from Google Play Store and install it on your mobile phone to check live score updates on your desktop home screen. IPL Live Commentary is also available in Hindi and English. Also, upcoming IPL match details and previous match details are also available. Download for iPhone
CricDaddy
CricDaddy is the best app to keep you updated with each and every moment happens in a Live IPL Match.For IPL updates, this is the best app to install. Real Time Scores and alerts and notifications are also available for live IPL matches including ball by ball commentary. The app size is 7.61 MB and it is available to download on Google Play Store. CricDaddy covers international cricketing events like T20Is, ODIs, Test Matches, Tours and T20I Leagues including PSL, IPL and BBL. Playstore Link
Cricket Mazza 11
For fast IPL Scores Live, Cricket Mazza 11 is one of the great apps to install on your mobile phone. With this app on your phone, every latest IPL news update is on your fingertips including IPL match information, today match live score videos and Live Match Details. Cricket Mazza 11 also serves as a source of information for its users. Its apk file size is 17.11 MB and it's available to download on Google Play Store.
Cricnet
Cricnet is the best app to catch all the cricket excitement with minimal battery and data usage. On Cricnet, you can check all IPL cricket live scores and cricket news. Install the app to get ball by ball fast live score updates for IPL 2023. Also upcoming and recent match details are available including Team squads, IPL Exchange, Playing XIs, head to head records and much more. You can download this free fastest IPL Live Scoring app from Google Play Store. The file size is just 5MB.
Score Bazaar
Score Bazaar provides a personalized cricket experience to the user and delivers Fastest Score Updates, Videos Analysis, and Commentary. You can search IPL matches date-wise to come to know about IPL Match Today and IPL Match Tomorrow. You can set the live score popup on your screen. Score Bazaar shows every ball IPL live match score, T20 Leagues, and recent cricket matches.It is one of the most popular and fastest live score apps. Its apk size is 13.18 MB. Download App here
Cricket Line Guru: Fast Live Line
Cricket Line Guru is the best app to show IPL Live Score. Here are the salient features of the Guru app. It provides, IPL 2023 Live Match Updates, cover all international cricketing events and leagues, detailed match scorecard with ball by ball commentary, details of the players, Live Match Line, IPL Live Score Super Over including Rankings and records. The apk file size of Cricket Line Guru is 13.51 MB. Download for Android
ESPNCricinfo
Brand new ESPNCricinfo app made its way to this list because of its fastest Live score and easy interface.ESPN provides the widest cricket coverage from all over the world including PSL, IPL, BBL, BPL, LPL, icc Cricket World Cup and domestic tournaments like Ranji Trophy and Syed Mushtaq Ali Trophy. Checking Live Score ESPN is very easy as the interface of the app is very easy. It also provides ball by ball commentary, notification updates for IPL matches, IPL Match Highlights and expert opinions of ex cricketers like Gautam Gambhir, Tom Moody, Sanjay Manjrekar, Ajit Agarkar and more. Download and install this app if you want to enjoy the best cricketing experience. Download for Android and Iphone
Cricbuzz – In Indian Languages
Cricbuzz is the number one cricket score app and the best thing about it that it is available in all Indian languages. Now you can check Live ScoreTamil, Hindi, Kannada, Telugu, Marathi and Bangali. By installing Live Score Cricbuzz app you can get access to all international cricket matches, IPL, PSL, Champions League T20 and ICC T20 Cricket World Cup. And all these tournaments are available in regional languages. There is also an English version of the Cricbuzz app available on Google Play Store. Download for Android and iPhone
How to Pin IPL Live Score Widget on Mobile Phone Lock Screen
Getting a live score about your favorite IPL match with touch is an amazing perk for someone who always in hurry but loves the game also. Accessing live score from the home screen, notification bar as well as on lock screen is made easy with UC Browser.
Follow these simple instruction below to get it done in few seconds
Step 1: The very first thing you will have to do is download UC Browser from Google Play Store. After downloading it, open the app and tap on 'Search'. Type 'uc cricket' in 'search bar'.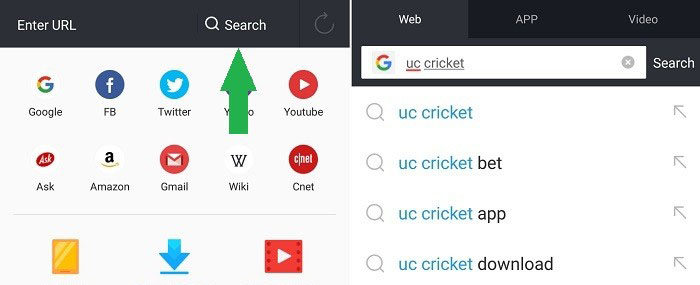 After doing the search, click on the search result showing the link 'uccricket.ucweb.com'. You will be taken to the UC Cricket's page where you will see details about the current or upcoming cricket matches.

Step 2: As you soon as you go the UC Cricket's page, the notification bar will start showing the cricket match details along Google quick search and Facebook notifications.

If the Google search bar and Facebook notification become annoying, you can disable them by clicking on the settings icon which will take you to 'Quick Access' from where you can toggle the switches to disable them.
You will only see the live cricket score in the notification bar. Now you can lock your phone. When you press the power button to unlock your phone, you will see a live cricket score on the lock screen of your phone.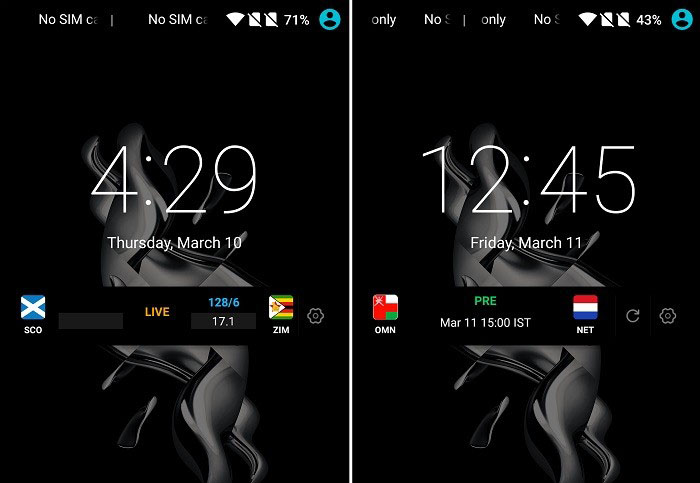 If there's no match being played currently, you will see the time and date of the upcoming match. As you can now see live cricket score on lock screen, you don't have to unlock your phone and open the app every time to check the score.
There's also a floating widget called UC Express which is in the shape of a cricket ball. It lets users gain access to the cricket content quickly.
If the UC Express widget becomes annoying, you can disable it by touching the three horizontal lines and then tapping on the 'Setting' option just above it. You will then be taken to the UC Express settings where you can toggle the switch to disable the widget.
Best Whatsapp group links for Faster Live IPL Score
Here are the working invite links of IPL 2023 live score.
Here is our list of Top 10 Best IPL Live Score Apps Faster than TV, Tell us in the comments which one you like and what we have missed in this list.