M. Chinnaswamy Stadium has great importance as cricketing venues in India. It is situated in the heart of Karnataka's capital Bengaluru. It was opened in 1969 and had the name of the Karnataka State Cricket Association (KSCA). Later it was named as a tribute to M. Chinnaswamy who is the former president of BCCI.  This stadium is the home ground of the Karnataka state cricket team and Royal Challengers Bangalore. This system is the first one in India that used solar panels to generate a large amount of electricity for ground.
IPL 2021 venues has been changed and whole league is shifted INDIA.
Upcoming IPL 2021 matches in Chinnaswamy Stadium
Chinnaswamy Stadium is the home ground of RCB. Here are the list of matches will be played at Chinnaswamy Stadium in IPL 2021
Further details of this ground are given below in detail.
Hotels near M. Chinnaswamy Stadium
The Ritz – Carlton, Bangalore In Bangalore, this hotel is under 1.6km away from the famous Cubbon park. This hotel is tremendous property with 24-hour front desk, WIFI over whole property, a swimming pool, a spa and a wellness floor. You can contact on this number for further information +91 80 4914 8000.
St. Mark's Hotel This hotel is centrally located in Bangalore and is a 4-star boutique offering a restaurant and a fitness center with free WIFI access. Rooms here will provide you with a flat-screen TV, air conditioning, and a mini-bar. There is also an electric kettle. Featuring a shower, private bathrooms also come with a bathrobe and free toiletries. Extras include satellite channels. You can contact on this number for further information +91 80 4001 9000.
JW Marriott Hotel Bengaluru The JW Marriott Bengaluru offers a 24-hour front desk, free Wi-Fi throughout the property and is home to 3 dining options, a fitness center, an outdoor swimming pool, a spa, wellness center and various other 5-star amenities. You can contact on this number for further information +91 80671 89999.
Southern Star, Bangalore Just 801 m from UB City Mall, Southern Star is located on Lavelle Road in Bangalore. The hotel is 500 m from M. G. Road, Brigade Road and Cubbon Park. Offering free parking, the property also features a gym. You can contact on this number for further information +91 80 4033 3111.
Chinnaswamy Stadium Pitch Report
The pitch in Bengaluru offers more pace and bounce as compared to other cricketing venues in the country. The short boundaries also make it a heaven for batsmen. Depending upon the size, this stadium is huge. The stadium is spread over the 16.51 acres area.
Boundary length
Boundary length is suitable for batsmen and bowlers will have to face difficulties due to this as the boundary is somehow short.
Ticket booking
This year ticket starts from 2625 Rs goes up to 38500 Rs. Chinnaswamy stadium tickets are available through online and offline mode. Chinnaswamy stadium ticket price is highest compared to other stadium tickets.
Sitting Capacity
The stadium has a seating capacity of 40,000 people and has two ends – Pavilion End and BEML End.
Address: Cubbon Rd, Shivaji Nagar, Bengaluru, Karnataka 560001, India.
Zip code: 560001
Contacts/supports/Helpline numbers
Phone: +91 80 40154015
Phone: +91 80 40154022
Email: [email protected]
Chinnaswamy Stadium Stands
Here we suggest you G upper, A upper, C upper, P3, P4, and terrace. These all will give you the best match views for you. The air-conditioned stands of this stadium are D stand, T stand, P2 stand, and the Box office stand. Besides these all, there is a Diamond Box stand that is much costly but has a great view.
A proper guideline of all stands in the stadium is given in the form of images.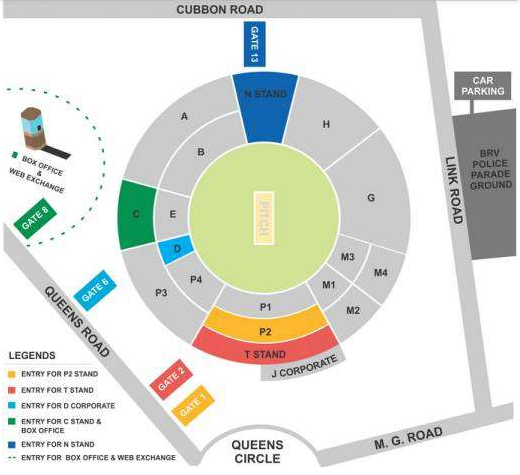 Corporate stands
It is a lower stand and covers almost more than half of one side of the stadium. There are about 10+boxes with each box having about 10–15 rows and 12 seats. The view is good as it is on the square side of the ground.
Pavilion stand
From the pavilion stand, one can have the best view behind the bowler. It is shaded that proves beneficial if it is a hot day. It is expensive than other stands.
Executive lounge
The lounges for this year have been modified and renovated. These are well lit to resemble a party scene, complete ceilings and well carpeted. Almost all exclusive facilities have been added to the lounges.
Chinnaswamy Stadium Weather
Looking at the world weather radar, national weather service and satellite images, M. Chinnaswamy Stadium, Bangalore, India weather forecaster are reporting little or no rainfall over the next 7 days. So make most of it while you are on vacation in M. Chinnaswamy Stadium, Bangalore, India.
Famous events
The 2010 Bangalore stadium bombing occurred on 17 April 2010 in M. Chinnaswamy Stadium, Bangalore, India. Two bombs exploded around a crowded Cricket stadium in which fifteen people were injured. A third bomb was found and defused outside the stadium. According to the Bangalore City Police, the blasts were caused by low-intensity crude bombs triggered by timers.
Chinnaswamy Stadium Records
Highest totals: Dated on 2 November 2013, the Indian team made a record of scoring 383/6 again Australia.
Highest individual scores: Younis khan scored 267 in this stadium in a test match. While Rohit Sharma scored 209 in the ODI match.
Average scores: Test matches average score is S/R: 34.47
ODI matches average score is S/R: 34.41
T20 matches average score is S/R: 24.22
1stInning (First batting) Average score is 362
2nd Inning (Second batting) Average score is 314
KSCA club house
The KSCA clubhouse was found in 1978. The KSCA has located at a distance of 37 km from the Airport and 6 km from the city railway station and the city bus stand. M.G Road, Brigade Road and commercial street which happen to be the business and commercial hub of the city is about walking distance from the clubhouse. The members of the club are leading elites of city and international sports. The Clubhouse timings are from 6:00 am to 11:00 pm.
Facilities
The restroom in the stadium is very bad and it lacks all the basic facilities. Toilets, if you can call them that are horrible. Food is available but not hygienic at all although some stands like pavilion/member stand it's not bad. Chairs are worn out or in some galleries non-existent.
Parking
Parking is allowed on the following Roads:
St Joseph Indian High School Ground and Kanteerava Stadium and first floor on Shivajinagar bus stand. Parking for vehicles of police and other staff deployed for the security duty has been provided in front of the KGID building.
Rent
To pay Rs 6.55 crore a month as rent, the chief secretary had proposed a formula fixing rental at the rate of 1% of the association's income as per its annual statement of income and expenditure.
Renovation
The renovation of the outfield is done according to the United States Golf Association standards. Under this system, there is also a sub-surface network of perforated pipes for aeration and drainage, in a closed-loop system and connected to the Sub Air Sports System. It helps in optimizing water usage in the stadium and also allows for Rain Water Harvesting.
Drainage system
The Chinnaswamy Stadium now boasts of a new drainage system, which will efficiently tackle the problem of rain delays. The Karnataka State Cricket Association (KSCA) unveiled sub-surface aeration and vacuum-powered drainage system, built by SubAir Systems, at the stadium.
M. Chinnaswamy stadium Images
Statistics
Here is a complete statistical representation of M. Chinnaswamy stadium.
City: Bengaluru, Bangalore
Country: India
Also or previously Known as: Karnataka State Cricket Association Stadium
First T20 Match: 25/12/2012
Last T20 Match: 22/09/2019
Matches Played: 7
Matches Won by Home Side: 2 (28.57%)
Matches Won by Touring Side: 3 (42.86%)
Matches Won by Neutral Side: 2 (28.57%)
Matches Tied: 0 (0.00%)
Matches with No Result: 0 (0.00%)
Highest Individual Innings: 113* By G J Maxwell in 2018-2019 (India v Australia)
Best Bowling:44007 By Y S Chahal in 2016-2017 (India v England)
Highest Team Innings: 202/6 (2016-2017) (India v England)
Lowest Team Innings: 127 (2016-2017) (England v India)
Highest Run Chase Achieved: 194/3 (2018-2019) Australia v India
Average Runs per Wicket: 24.22
Average Runs per Over: 7.82
Entry Rules and Entrance Fees
There are no cloakroom facilities in the stadium The following things are strictly prohibited to take in the stadium.
Cigarettes
Earphones
Foodstuffs
Lighters
Pens
Bags
Cameras
Water bottles
Umbrella
While for entrance, you just need Match Tickets, your wallets, and phone. There is no entrance fee of M. Chinnaswamy stadium.
Facts About Chinnaswamy stadium
Here we have some facts which could prove beneficial for you:
The most number of runs scored by a batsman in this stadium is 534. And this record belongs to Sachin Tendulkar.
The debut test match played at this stadium was with West Indies in 1974 and saw the emergence of two modern legends of world cricket — Gordon Greenidge and Sir Viv Richards.
The stadium hosted one of its most memorable matches just after it installed floodlights in the 1996 cricket world cup.
M.Chinnaswamy Stadium will be using water from a sewage treatment plant for the ongoing IPL season on account of the water crisis in many parts of India. The testing for the water from the plant is underway and it should be ready for use in a week's time.
There is a great big wall at the front made of 10,000 bricks, these 27 feet high and 15 feet wide structure, erected just a few steps into the Stadium, is a unique tribute to the home-born cricketer Rahul Dravid, who made it big in the world cricket.
Dale Steyn posted a video of himself and his teammates playing cricket in the dressing room of the M. Chinnaswamy Stadium at Bengaluru. https://www.instagram.com/dalesteyn/
Food Price At Chinnaswamy stadium
According to some reviews on food, people do like the food here and find it valuable according to price. But during matches the price of food is double.