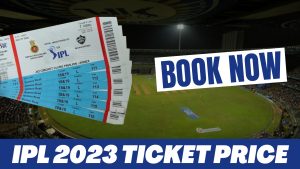 Are you waiting for IPL 2023 tickets and want to book online? If that's the case, you're in the right place. We will talk about the ticket price list, and online buying guide, not only from India but also from other countries. This article will cover buying IPL tickets for all venues and the official ticket sale date. Check out the Schedule for 2023 to book tickets early.
Book IPL Tickets Online For 2023
Buying IPL Tickets online is an excellent way to save time and seats. One can purchase IPL Tickets from numerous sources online and offline. Cricket fans can book IPL tickets online or buy from ticket counters at the stadium manually. 2023 IPL Tickets will be available online on BookMyShow, Insider.in, TicketGenie, EventsNow, and Paytm. IPL team sometimes makes official contact with ticket partners and sells tickets directly on their official websites.
Ticket Price For IPL 2023 League
Many fans want to know the price of IPL Tickets and when IPL Ticket Booking will start. You are on the right page if you want to see the answer to this question. This page is your one-stop solution for all queries related to IPL Tickets, Prices, Ticket Prices in India, VIP Box Ticket Prices, Booking Dates, etc.
IPL Ticket Prices are decided based on seats and the stadium where the match will be played. IPL 2023 Ticket Prices are different due to stadium capacity and the location of the stadiums. In IPL 2019, Ticket prices for KKR home games started from Rs. 400 onwards. But the prices for Hyderabad are prices Rs. 500 onwards. The ticket prices for Rajasthan Royals matches in Sawai Man Sing Stadium start at Rs. 650.
IPL Ticket Booking
IPL Ticket Booking starts a few days before the match, and one can reserve the seats of choice online or offline. The tickets sell like hotcakes, so if you want to grab one for yourself and your loved ones, keep an eye on the websites, or it is useless to cry over spilled milk.
| | |
| --- | --- |
| IPL 2023 | Ticket Booking |
| IPL 2023 Dates | 28th March to 29th May 2023 |
| IPL Ticket Booking Starting Date | Not yet Announced |
| IPL 2023 Ticket Price | Starting from INR 400 |
| No. Of Teams in IPL | 10 |
| IPL 2023 Tickets Booking Available Date | March 2023 |
| Where to Buy IPL Tickets 2023 | BookMyShow, Insider.in, TicketGenie, EventsNow, and Paytm |
| IPL Official Website | iplt20.com |
IPL Ticket Booking
IPL New Teams
In the IPL 2022, BCCI added two new teams, Lucknow Super Giants and Gujarat Titans, to spice up the tournament. The addition of the two teams increased the number of matches and the excitement level. Gujsrat Titans played brilliantly and won their first title in 2022. Gujarat and Lucknow teams are super favorites for the upcoming IPL season, and their fans are already looking for Lucknow Team IPL Tickets and Gujarat Titans IPL match tickets.
How to Book Ticket Online?
First, Visit the website where you want to buy the IPL Ticket, i.e., BookMyShow.
Log In to the Website (If you don't have an account, sign up first).
Then Go to the sports tab and Click on the IPL 2023(Coming soon).
Select the match you want to watch >Select the stand > Choose Your Seat and confirm the number of tickets.
Proceed to checkout and complete the payment using your Credit Card, Debit Card or PayPal.
If payment is successful, you will get an SMS and E-mail of confirmation.
You need to print out and show it to the counter to get the IPL tickets.
If you choose the IPL tickets home delivery option, it will take about 3 or 4 days to arrive tickets at your doorstep.
Buy Tickets for IPL Teams
IPL fans live in every inch of India and worldwide. You might be a working mother or dad with a hectic job and don't have time to research the ticket-buying process. Don't worry. We have the list of all locations and venues to buy IPL tickets. Check out the IPL 2023 Ticket Prices List. IPL Match Tickets usually start from INR 400, and the prices may vary according to the stadiums, stands, and facilities.
Buy Tickets for IPL Teams
Tata IPL 2023 Estimated Ticket Price
| | |
| --- | --- |
| Seating Position | Price of the Ticket |
| Front rows or lower stands like B1, C1, D1, F1, G1, H1, K1 or L1 | 400-500 INR |
| Upper stands like B, C, F, K or L | 900-2100 INR |
| Upper House Club | INR 3000 |
| Lower House Club | INR 9000 |
| VIP box | INR 19000 |
| Corporate Box | INR 24,000 |
Tata IPL 2023 Estimated Ticket Price
Buy Tickets For The Stadium
IPL kept its legacy of performing great events every year. Every year matches start with a fully packed stadium and end like a Boss. Due to the virality and fame of the game, ticket shortages happen all the time. That's why you book your tickets first to avoid disappointment. Tickets will be available at the counter for all venues of IPL 2023 stadiums. Stadium locations are already mentioned on Google maps and are easy to navigate. If you come from other countries, you can book a ride to the stadium for IPL 2023.
Ticket counters are available on the following venues for IPL 2023
M. A. Chidambaram Stadium, Chennai
Arun Jaitley Stadium in Delhi
M. Chinnaswamy Stadium, Bengaluru
Narendra Modi Stadium in Ahmedabad
Wankhede Stadium in Mumbai
D Y Patil Sports Stadium in Mumbai
Punjab Cricket Association Stadium, Mohali
Arun Jaitley Stadium, Delhi
Sawai Mansingh Stadium in Jaipur
Rajiv Gandhi International Cricket Stadium, Hyderabad
Wankhede Stadium IPL Ticket Price 2023
Cricket fans are excited to watch their favorite players in action. As Mumbai is a vast city, the demand for Wankhede Stadium IPL Tickets is very high. The Wankhede Stadium ticket price list is also a hot topic among cricket lovers. Mumbai Indians' ticket prices are similar to the previous years, with a slight price rise. Wankhede Stadium is the home ground for Mumbai Indians, and they will play most of their IPL matches here.
If you are a Mumbai Indian fan, you need to hurry up to book all the match tickets for Mumbai Indians matches either online or from the stadium booking window. You can buy IPL Mumbai Indians tickets online on BookMyShow. You can also Buy MI tickets 2023 at the Wankhede Stadium Box office counter (Gate No. 2) or select Reliance Sahakari Bhandar retail outlets in Prabhadevi and Colaba between 9 – 6 pm.
Wankhede Stadium Ticket Counter Timing: 9 AM to 6 PM.
According to the previous IPL season rates for Mumbai Indians tickets, the minimum price for a ticket could be Rs 800 (Sunil Gavaskar Stand), which will go up to Rs 8,000 (Sachin Tendulkar hospitality Stand). Corporate box tickets are also available, costing between Rs 12000 and Rs 30000.
Estimated Economy Ticket Price: Rs 800 and Rs 8000 (Sunil Gavaskar Stand)
Estimated Corporate Box Ticket Prices: Rs 12000 and Rs 30000
MA Chidambaram Stadium IPL Tickets 2023, Chepauk Stadium IPL Tickets Price
Chennai Super Kings(CSK) is one of the most loved cricket teams in the Indian Premier League, and the main reason behind this love is one person army, MS Dhoni. After the IPL auctions, people are waiting for the IPL Tickets 2023 Chennai Price. Chennai Super Kings is a team based in Chennai, Tamil Nadu, and there are thousands of cricket fans in Tamil Nadu to watch their favorite team in action. CSK is one of the most successful teams in the IPL and usually finishes in the top 3 on the IPL Points Table.CSK team is a complete package and can win this year's IPL trophy. The fans eagerly await Chepauk stadium tickets and IPL tickets at Chennai prices.
Chepauk IPL Tickets are available online on BookMyShow as well as from the ticket counters of MA Chidambaram Stadium. Compared to the previous seasons of IPL, the prices for MA Chidambaram Tickets for IPL Season 16 are high. Also, Chepauk Stadium online tickets are in very high demand due to the return of MS Dhoni after being away from international cricket for a long time. Per previous trends, the price of IPL tickets in Chennai might start from 500 Rs. We are waiting for the official Chepauk Stadium tickets price list.
Chennai IPL Retail Tickets Outlets are also a source to buy CSK IPL Tickets. The organizing committee of the IPL opens these retail outlets to make the sale process of tickets smoother.
The estimated EconomyTicket Price for Chennai Super Kings starts from INR 500.
You can buy CSK IPL Tickets online from BookMyShow.
You can also buy CSK IPL 2023 Tickets from Chennai Retail Outlets throughout the city.
Buy Punjab Kings Tickets 2023, Mohali Stadium Tickets Price
Mohali is the home ground for Punjab Kings. Being the home ground for KXI Punjab, half of the matches will be played in Mohali. KXI Punjab has been an unlucky team to win the IPL title till now. It has not been the best few seasons for the Punjab Kings, who have not been the most consistent side in the Indian Premier League over the years. Since the 13th season is near, the trend to search for The IPL Mohali tickets price 2023 is high nowadays.
The IPL ticket price in Mohali is a hot trend because the ticket price is one of the deciding factors in watching a cricket match live in the stadium. Mohali match tickets booking starts as soon as they are up for sale. Once the deal is started, the IPL Mohali tickets price in 2023 will also be revealed. In the previous season, the Mohali stadium ticket price started from Rs 950 and went up to Rs 8500. You can buy IPL tickets for Mohali and any other ground on which they might play this season of the IPL online on BookMyShow, Insider. in, and PayTM.
Here we covered all details about IS Bindra Stadium Tickets booking for IPL Season 16. Another name of this cricket ground is Punjab Cricket Association Stadium, and IPL Mohali tickets price is in the average range. You can also book King XI Punjab Tickets at the stadium counters or from retail counters in Mohali.
Buy Punjab Kings Tickets Online via BookMyShow, Insider. In, or PayTm.
Punjab Kings Mohali Stadium Tickets IPL can be bought from stadium counters or Retail Outlets in Mohali.
The estimated Ticket Price for KXI Punjab starts from INR 950 and goes up to INR 8500.
Kolkata Knight Riders Tickets 2023, Eden Gardens IPL Tickets
Kolkata Knight Riders, also known as KKR, is Kolkata's official team, and Eden Gardens is their home ground. KKR will play half of its matches at Eden Gardens in IPL 2023. The 16th season will last 57 days, and there will be 60 matches, including PlayOffs. Eden Gardens, Kolkata, hosted numerous matches, and fans are excited to see the action at the oldest cricket ground in India. KKR won two IPL titles in the past, and in 2023, they are ready to grab the trophy under the captaincy of Dinesh Karthik.
We will take you through the process of booking Kolkata stadium Tickets along with the price of the Kolkata Stadium tickets price. You can book your Kolkata tickets for the IPL on BookMyShow. Eden Gardens Stadium Tickets Booking has been easy in the recent IPL seasons. The most economical ticket for the KKR home matches at Eden Gardens was INR 400 in IPL 2019, and it is expected to remain the same this year too.
KKR match tickets can also be bought from stadium counters or Retail Outlets. The Box Office counter at the Mohammedan Sporting Club Ground will be open all seven days of the week between 10 am and 6 pm.
The estimated Ticket Price for Kolkata Knight Riders starts from INR 400.
Buy Kolkata knight riders 2023 tickets on BookMyShow
The Box Office counter at the Mohammedan Sporting Club Ground will be open all seven days between 10 am and 6 pm.
Buy Sunrisers Hyderabad Tickets Online, IPL Matches in Hyderabad Uppal Stadium 2023
The excitement of the IPL is increasing every passing season. Indian Premier League has become very popular among all cricket leagues in the world. Uppal Stadium Hyderabad, or Rajiv Gandhi International Stadium, is the home ground of Sunrisers Hyderabad. Led by Kane Williamson, Sunrisers Hyderabad is one of the best teams in IPL 2023. They were the runner-up in IPL 2018, so the fans are excited to watch them in action again and looking for Uppal Stadium Tickets Booking Online for IPL 2023.
IPL Tickets Hyderabad will be available on Eventsnow.com and their app. Get your Sunrisers Hyderabad tickets before they run out of the options mentioned above. The starting price for the tickets to the Sunrisers Hyderabad home matches will be announced later, but as per the previous season, they were worth INR 500, going up to INR4000. Fans can also buy IPL tickets in Hyderabad at the box office and metro stations select SRH tickets retail outlets between 11 AM to 8 PM. We shall discuss IPL SRH 2023 ticket booking details here, and it will be beneficial for fans to book IPL tickets.
Book IPL Sunrisers Hyderabad tickets via EventsNow
SRH Hyderabad Tickets can be bought at SRH Tickets Retail Outlets from 11 AM to 8 PM.
Sunrisers Hyderabad estimated ticket price starts from INR 500 and goes up to INR 4000.
Chinnaswamy Stadium IPL Tickets 2023, Royal Challengers Bangalore Tickets Online Booking
IPL Tickets in Bangalore – Chinnaswamy Stadium Tickets always sells like hotcakes during the Indian Premier League. Chinnaswamy Stadium is the home ground of Royal Challengers Bangalore (RCB). RCB is always known as a stylish team in IPL, and RCB IPL Tickets are always in high demand. The fans are also eager to learn the IPL Tickets Price In Chinnaswamy Stadium Bangalore.
If you are looking to book the 2023 IPL tickets for Bangalore, you can do so using TicketGenie / Liveinstyle. Another option to purchase Royal Challengers Bangalore IPL Tickets is to visit selected retail outlets like Sony Center, Devi International, or Zeven in chosen locations. Crickets fans who cannot book RCB Tickets Bangalore online or from the outlets can get them from the R Chinnaswamy Stadium (Boxoffice, Gate No: 18 & 19 ) on both match days As well as non-match days from 10:00 AM to 06:00 PM.
A person who wants to buy a ticket needs his\her Aadhaar Card to buy RCB IPL 2020 tickets. Even if you are booking your ticket online, you need your Aadhaar Card number and fingerprint impression at the time of ticket collection. RCB Ticket Price depends upon seats and stand. The Royal Challengers Bangalore ticket prices range from Rs. 1750 – Rs. 35000.
Book IPL RCB match tickets online via TicketGenie / Liveinstyle.
RCB Match Tickets can be bought from Chinnaswamy Stadium (Boxoffice, Gate No: 18 & 19 ) from 10:00 AM to 06:00 PM
The estimated Ticket Price for RCB ranges from Rs. 1750 to Rs. 35000
Delhi Capitals Tickets 2023 Online Booking, Feroz Shah Kotla Stadium Tickets, IPL Ticket Price in Delhi
Feroz Shah Kotla Ground Delhi is the home ground of Delhi Capitals. Delhi Capitals' old name was Delhi Daredevils, and now it has been changed. We have discussed Feroz Shah Kotla Stadium Tickets and Kotla Stadium ticket prices.
Delhi's first few IPL seasons were poor, but with a new-look side and management, they performed well. They advanced to the play-off stages last year, ending at position 3 in the points table with 18 points. If you are a Delhi Capital fan and want to book the Delhi Capitals Tickets for IPL 2023, this is the right place you landed.IPL tickets for Delhi 2023 booking online will be available on Insider. in.
You can also buy Delhi Capitals match tickets from the box office and selected Metro Stations. If you cannot book tickets online, you can collect them on matchday from the stadium counter. This year, the starting IPL ticket price in Delhi for online tickets is Rs 750, going up to Rs 16500.
DC ticket: Buy Delhi Capitals tickets online via Insider.in
In 2020, Feroz Shah Kotla Stadium Ticket Price 750 to 16500
Rajasthan Royals Tickets Online Booking, IPL 2023 Ticket price in Jaipur
Jaipur, also known as the Pink City of India, is the home ground of Rajasthan Royals. Sawai Man Singh, the stadium of Jaipur city, is an international cricket stadium famous for IPL matches. After having returned to the IPL in 2018 following a two-year-long suspension, the Rajasthan Royals will likely continue the hard work this season under the leadership of their new captain Steve Smith.
Jaipur is hosting more than half of the matches of the Rajasthan Royals in IPL 2023. Rajasthan Royals Rajasthan Royals tickets online booking will be available on BookMyShow. In 2019, ticket prices were between Rs 500 to Rs 15000.
Buy RR tickets online on BookMyShow.
The estimated Ticket Price for Rajasthan Royals is Rs 500 to Rs 15000.
Buy Lucknow Super Giants Tickets Online 2023, IPL 2023 Ticket Price in Lucknow, LSG Tickets 2023
Added in 2022; Lucknow Super Giants is one of the two new teams in IPL. RPSG Group owns the LSG team and bought the franchise for whopping Rs 7,090 crores, which is the highest bidding price for any franchise in the Indian Premier League.
Suppose you are a Lucknow Super Giants fan and want to book IPL 2023 Tickets online to watch LSG matches at stadiums. In that case, LSG online ticket booking will be available a few days before the match on the official website on several other websites like an insider.in, BookMyShow, or Paytm. But before making an online ticket booking for an IPL match, it is necessary to know the ticket prices.
The starting price of LSG Tickets is INR 800.
And the tickets closer to the stands are priced at INR 3000 to 3500.
Gujarat Titans Online Ticket Booking 2023, How to Get GT IPL 2023 Tickets
Owned by CVC Capital Partner, Latest addition to the Indian Premier League, Gujrat Titans turned out to be one of the best teams in IPL, lifted the trophy on their first attempt. Hardik and Co. played their best to win their maiden title in 2022.
You can book IPL 2023 Tickets to watch Gujrat Titans matches on the ground. IPL 2023 Ticket Booking for GT will be available just a few days before the matches online and offline. Keep an eye on the websites to book your tickets for Gujarat Titans Ahmedabad IPL 2023 matches.
Frequently Asked Questions
What is the Price of IPL Tickets?
The price of IPL Tickets is different for all the teams. The tickets start from ₹400, and the prices may go as high as ₹24000.
How to get IPL Tickets?
One can buy IPL Tickets offline from the stadium ticket counter or online from BookMyShow, Insider. in, or Paytm.
Can we buy IPL Tickets from the stadium?
Yes, fans can buy IPL Tickets offline from the stadium ticket counter.
Can I cancel my IPL Tickets?
Yes, you can cancel tickets up to three hours before the booked slot. But it cannot be canceled if you buy the ticket from the stadium.
What is the age limit for buying tickets?
Anyone above three years of age should have an IPL Match ticket. In the case of under three years, an adult should accompany them.
What happens if a match is abandoned?
The ticket price (booked online or offline) will be refunded if a game is abandoned without a single ball being delivered.