Mumbai, widely seen as India's cricket capital, is home to the Mumbai Indians (MI), one of the most iconic grounds in the nation. Wankhede Stadium is quite a new ground as compared to the other cricket grounds in India like Eden Gardens Kolkata, Chepauk Stadium Chennai, and Feroz Shah Kotla Ground Delhi. It was opened in 1974. Mumbai Indians play their home matches in Wankhede Stadium. This stadium has the honor to host many prominent cricket matches like the 2011 Cricket World Cup Final. Wankhede Stadium is also famous for IPL matches as it is the home ground of Mumbai Indians (MI). It is located near Marine Lines in Mumbai.
IPL 2021 venues has been changed and whole league is shifted back to INDIA.
Here are the address and contact details of Wankhede Stadium Mumbai.
Upcoming IPL 2021 matches in Wankhede Stadium
Here is the list of Wankhede Stadium's upcoming IPL 2021 matches. As it is the home ground of Mumbai Indians, MI is going to play almost half of their matches in Wankhede Stadium.
Wankhede Stadium IPL Ticket Price 2021
Ticket Price for IPL 2021 at Wankhede Stadium is yet to be announced. It will be revealed soon. Ticket Price for IPL is different for different stadiums and teams. Wankhede stadium ticket price starts at 800 Rs and the highest ticket price climbs up to 8000 – 8800 Rs. You can buy IPL tickets either from the ticket counter at the stadium or book it online on BookMyShow. Wankhede Stadium BookMyShow is a good option for those IPL fans who do not want to stand in long queues on ticket counters.
Hotels Near Wankhede Stadium
Here is the detail of closest hotels to Wankhede Stadium, From business to budget, all kinds of options are available.
The Ambassador Mumbai
The Ambassador Hotel is one of the finest hotels in Mumbai. Informal and relaxed, yet efficient and businesslike. It is located 763m away from Wankhede Stadium and offers centrally air-conditioned rooms and suites, free Wi-Fi, Flat Screen TV, Refrigerator with 24-hour room service. Parking is complimentary. Other amenities include an elegant restaurant, a cafe, and meeting, and event space. Breakfast is available.
Address: Veer Nariman Road, near Marine Drive, Churchgate, Mumbai, Maharashtra 400020, India
Phone: +91 22 2204 1131
Liberty Hotel Mumbai
Hotel Liberty has located 1 km from the Churchgate Railway Station. With a 24 hours front desk available, it has 25 well-maintained rooms spread on 4 floors. Hotel Liberty is 500m away from Wankhede Stadium. Facilities are telephone, television and attached bathroom with 24 hours running hot and cold water. They also offer laundry and round the clock security. Here are the address and contact details of Liberty Hotel Mumbai.
Address: Building No, 49, 2nd Marine St, near Gol Masjid, Dhobi Talao, Sonapur, Churchgate, Mumbai, Maharashtra 400002, India
Phone: +91 22 2206 2264
Hotel Bentley
Hotel Bentley is a 2-star hotel located 256m away from Wankhede Stadium. It is one of Mumbai's best budget tourist hotels. It features room service, doctor on call, laundry and medical aid. The location is on a quiet street, yet Bentley's is very close to several major tourist attractions including the Gateway of India, Prince of Wales Museum, The Rajabai Clock Tower & Jehangir Art Gallery. Bentley Hotel has a clean and quiet atmosphere which is very suitable for tourists.
Address: 17 OLIVER ROAD, OFF GARDEN ROAD, NEAR ELECTRIC HOUSE, COLABA, MUMBAI – 400 001
Sea Green Hotel
741.8m away from Wankhede Stadium, Sea Green is a good budget hotel for visitors. The prominent tourist places where guests can visit are Elephanta Caves(2 km), Gateway of India(2.2 km), Mumba Devi Temple(3.7 km), Kamala Nehru Park(5.5 km) and Haji Ali Dargah(6.1 km). Rooms are equipped with air conditioners, satellite television, Wi-Fi, electronic safe and refrigerator. The compact size of the hotel ensures all guests experience our full personalized attention, adding to an enjoyable stay in Mumbai.
Wankhede Stadium Ground Information
Owner: Mumbai Cricket Association
There is a rumor circulating on the Internet that Shah Rukh Khan is the owner of Wankhede Stadium but this is false news. Wankhede Stadium is owned by Mumbai Cricket Association.
Established: 1974
Flood Lights: Yes
Tenants: Mumbai cricket team, Mumbai Indians, India national cricket team
Ends: Garware Pavilion End, Tata End.
Wankhede Stadium Capacity
Wankhede Stadium has a seating capacity of 33,108. Before the upgrade for the 2011 World Cup, it had a capacity of 45000 people at once.
Wankhede Stadium Pitch Report
The wicket at Wankhede Stadium is helpful for both fast bowlers and spinners. It means Wankhede Stadium for Spinners and Pacers is heaven. As Mumbai is a seaside city, swing bowler gets a fair amount of assistance during the early part of each day. Red soil is used to prepare the wicket, it ensures that there is some help for spinners during the last couple of days of a five-day game. Although the new ball does a bit in limited-overs cricket, the pitch tends to facilitate out and favor batsmen as the inning progresses. The venue offers great amusement when it comes to T20 cricket.
Wankhede Stadium Weather Details
The climate in Mumbai in March and April 2021 can be summarized as very hot and very dry. April is in the spring in Mumbai and is typically the 3rd warmest month of the year. Daytime maximum temperatures average around a warm 33°C (92°F), whilst at night 24°C (75°F) is normal. On average April is the 3rd driest month of the year in Mumbai with around 0 inches of rain making Wankhede Stadium an ideal place for IPL matches.
Wankhede Stadium Records and Statistics
First Test 23–29 January 1975: India v West Indies
Last Test 8–12 December 2016: India v England
First ODI 17 January 1987: India v Sri Lanka
Last ODI 14 January 2020: India v Australia
First T20I 22 December 2012: India v England
Last T20I 11 December 2019: India v West Indies
Only women's Test 10–13 February 1984: India v Australia
First WODI 23 December 1997: Ireland v New Zealand
Last WODI 28 February 2019: India v England
Only WT20I 31 March 2016: West Indies v New Zealand
Most Runs In Test Matches: Sunil Gavaskar from India scored 1122 runs at an average of 56.10.
Most Runs in ODI''s: Sachin Tendulkar from India scored 455 runs at an average of 41.36.
Most Runs in T20's: Virat Kohli from India scored 197 runs at an average of 197.00
Highest Total Score in Test Matches: India scored 631 against England on 8 December 2016.
Highest Total Score in ODI's: On 25 October 2015 South Africa scored 438\4 against India.
Highest Total Score in T20's: On 11 December 2019, India scored 240\3 against West Indies.
Wankhede stadium winning percentage in t20 matches is interesting. 71.4% of teams won the match in chasing the target. Here are some more stats from Wankhede Stadium History.
Wankhede Stadium T20 Stats
Total matches 7
Matches won batting first 2
Matches won bowling first 5
Average 1st Innings scores 194
Average 2nd Inns scores 182
Highest total recorded 240/3 (20 Ov) by IND vs WI
Lowest total recorded 172/10 (20 Ov) by AFG vs RSA
Highest score chased 230/8 (19.4 Ov) by ENG vs RSA
Lowest score defended 209/5 (20 Ov) by RSA vs AFG
Wankhede Stadium Stands
There are eight stands in Wankhede Stadium Mumbai for Spectators. Here are the names:
Sunil Gavaskar Stand
North Stand
Vijay Merchant Stand
Tendulkar Stand
MCA Stand
Vithal Divecha Stand
Garware Stand
Grand Stand
Now the question is Which stand is best in Wankhede Stadium to watch IPL matches? Well here is the answer: The North Stand End also known as the Tata End and the Grand Stand End or Pavilion End offer the best view as they provide the view right behind the bowler's arm. The second-best option for stands to watch IPL matches is the Garware Pavilion and MCA pavilion stands at the South End.
Stadium Stands with Capacity
Sachin Tendulkar Stand: 13338
Sunil Gavaskar: 4450
Vithal Divecha: 3030
MCA Pavilion: 1634
Garware Pavilion: 4588
Vijay Merchant: 4052
Grand Stand: 980
Boxes: 1116
Wankhede stadium VIP box
Watching a cricket match from the VIP box is an excellent experience. There are also Vip Boxes available at Wankhede Stadium but unfortunately, they are not for a common man. There are no tickets for the VIP box. You can go there and watch a match from the invitation which you can get from either your celebrity friend or someone from the PepsiCo.
Wankhede Stadium Club House
The Mumbai Cricket Association decided to construct a stadium and a club under the Presidentship of Late Shri.S.K.Wankhede in the year 1972. The construction was completed in 1974 and Wankhede Stadium Club House was named as BCA Garware Club House. This clubhouse offers facilities to its members such as Health Club, Swimming Pool, Billiards, Table Tennis and other facilities like Library, Restaurant, Permit Room and Residential accommodation. Members can enjoy Test Matches, ODI and IPL T20 match as 6000 seats are reserved for Garware Club House in the Garware Pavilion by Mumbai Cricket Association.
Facilities at Wankhede Stadium
Wankhede Stadium is a modern stadium equipped with all kinds of facilities such as clean washrooms and other staff is cooperative and everything is up to the mark. Food courts are also available just outside the stadium.
Parking
If you own a vehicle, then this is a big question for you. Is there any parking available at Wankhede Stadium? Well..if you are entering from Eastern suburbs or from southern Mumbai, drive straight to the parking lots of Mantralaya Lane, Vidhan Bhavan Periphery, near inox, on jamnalal bajaj marg, NCPA Lane. Once you park, the Stadium is at a walkable distance! If you are coming from Western sides, parking is available at Nana Nani park Chowpatty, Wilson College Gymkhana, Islam Gymkhana, Parso gymkhana. These areas are closest to the stadium.
But if you want to enjoy an IPL match, don't bring your car. Local Trains are a good option to reach the Stadium in time.
How to Reach Wankhede Stadium
There are multiple ways available to reach Wankhede Stadium like by rail or by road.
By Rail
It is very easy to Wankhede Stadium by train as Churchgate Station is nearby. Local trains come from different areas within the city and stop at the Chhatrapati Shivaji Railway terminus, which is also located close to the stadium.
By Road
It's not a big issue to reach Wankhede Stadium by road as it is connected by multiple roads. One can hire an auto-rickshaw, Uber or a local taxi to reach here. Local B.E.S.T buses also regularly stop at the Churchgate Bus Terminus. Wankhede Stadium is within walking distance from here.
Entry Rules and Entry Fee of Wankhede Stadium
When we plan to watch an IPL match at the stadium, a question pops up to our mind that what is permitted and what is prohibited at the stadium? So here are the items that are permitted at the Wankhede Stadium:
Wallet
Cell phone
Small purse (women can carry their small purse with their essential make-up items 😉 )
Flags without stick
Jersey
And here are the items which are strictly prohibited inside,
Eatables (Not even any mouth-freshener )
Water bottles
Coins
Power bank
Bags
Motorcycle helmets
Cameras
Electronic gadgets.
Ear Phones
There is no entry fee for Wankhede Stadium. You just need the ticket for the match to enter inside.
Wankhede stadium Map and Layout
Here is the Wankhede Stadium Map.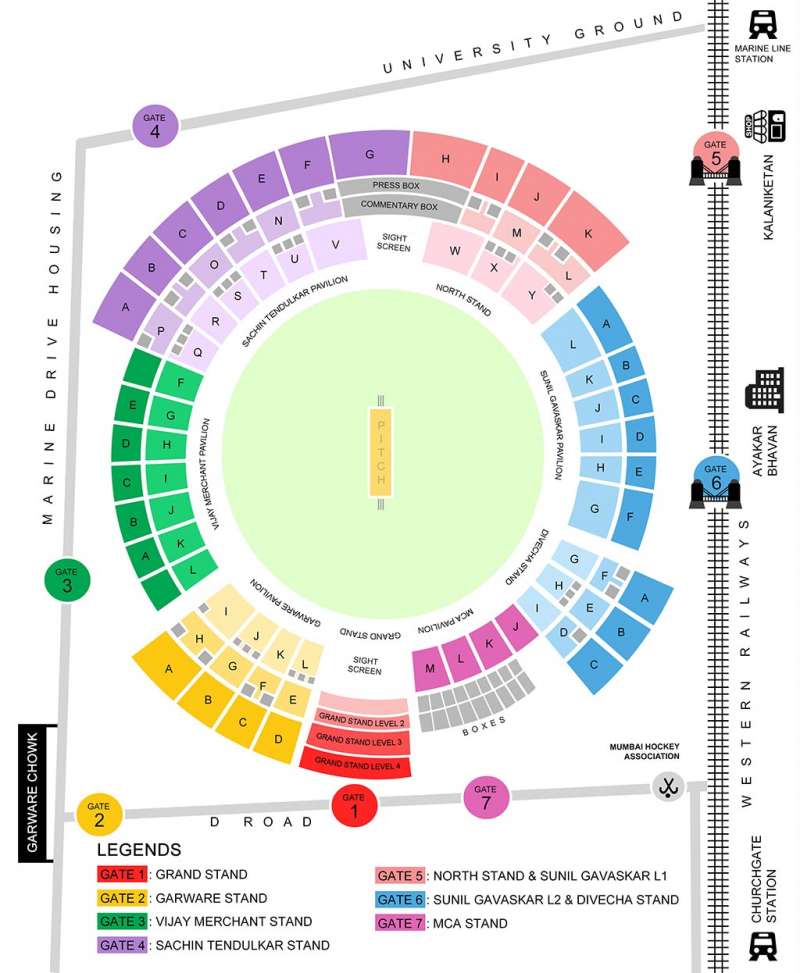 Wankhede stadium view